We can sincerely watch in our surroundings that hacking activities are continuously on the rise in many organizations and institutions hailing from diverse backgrounds and niches.  In this regard, we need to be fully aware of any kind of hacking activities going on in our surroundings in any possible manner.
Moreover, just to be on the safer side, it is the need of the hour to be 100% protected by staying aware of distinguished cyber security best practices.  To become cyber-safe, we need to understand the mindset of a hacking individual, and in some cases, we need to think like one.
All in all, it is needless to say that this could only be possible when one can get appropriate knowledge of ethical hacking via a proper course widely known as an ethical hacking course in the wild.
What is Ethical Hacking?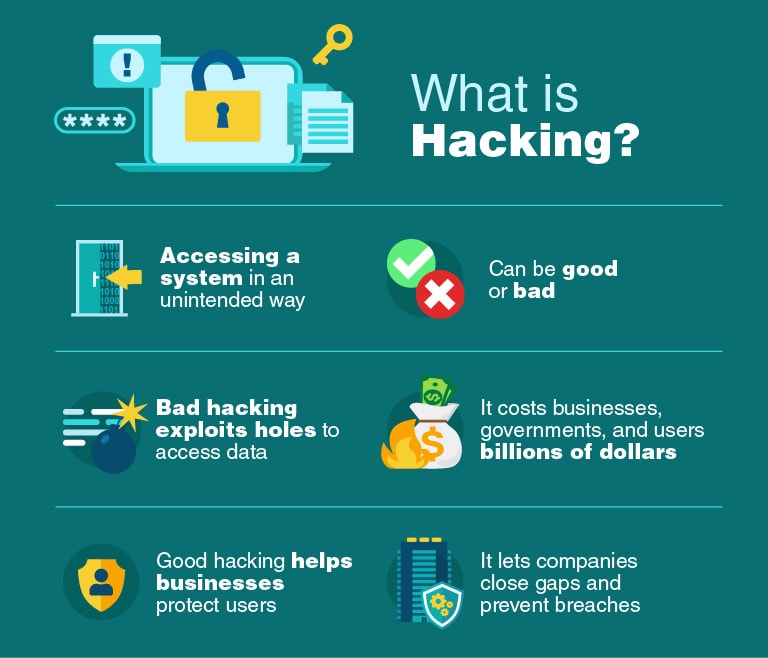 As a general rule, Ethical Hacking is the practice of testing a computer system, network, or web application to find security vulnerabilities that an attacker could exploit.  In addition, ethical hackers use the same knowledge and tools as malicious hackers, but instead of taking advantage of the vulnerabilities for personal gain, they report them to the organization so they can be fixed.
Most importantly, we can say that ethical hackers are the uniformless army that is serving the nation to secure high-sensitive data possessing IT infrastructures from ill-intentioned cyber adversaries.  On the contrary, the black hat hackers are equally skilled but chose the path of wrongdoing and started working as cyber adversaries to fall prey to the datasets of varied organizations hailing from different niches and genres.
Types of Ethical Hackers
There can be many types of hackers are there that are widely working in the industry for their own kind of purposes.  In working organizations, only certified ethical hackers are allowed to work with proven track records via a proper ethical hacking course and working experience in the same trajectory as an efficient cyber security analyst in some reputed organizations.
Moreover, the different types of ethical hackers have been jotted down below for your reference:
White Hat Hackers: White hat hackers are ethical hackers who use their knowledge and skills for defensive purposes, such as protecting networks and systems from malicious attacks and data breaches.
Black Hat Hackers: Black hat hackers are malicious hackers who use their knowledge and skills for offensive purposes such as stealing data, launching denial of service (DDoS) attacks, and exploiting vulnerable systems.
Grey Hat Hackers: Grey hat hackers are a mix of white and black hat hackers. They use their hacking skills to find and exploit vulnerabilities in systems or networks and then charge a fee to the owner of the system or network to fix the issue.
Script Kiddies: Script kiddies are amateur hackers who use scripts and tools created by more experienced hackers to launch attacks on systems and networks.
State-Sponsored Hackers: State-sponsored hackers are hackers sponsored by a government to launch attacks on other countries or organizations. They are typically highly skilled and have access to sophisticated tools and techniques.
White Hat Vs. Black Hat Hacker
This would not be wrong to state that there are multiple grounds by which we can differentiate between an ethical or unethical hacker, such as their working intentions, etc.  However, there are varied other angles that one should check before judging a person's intention toward one's daily hacking practices, such as the following:
Techniques Used
Numerous primetime techniques are implemented by white hackers as well as black hat hackers that are quite identical.  For example, white hat hackers use to repeat the tactics utilized by cyber adversaries to scrutinize how system hacking took the initiative and the methodology to prevent further attacks.
Legality
In legal terms, white hat hackers always keep in the loop the owner as well as the rightful responder of the IT infrastructure of a particular company.  On the other hand, black hat hackers forcefully penetrate the IT Security systems without any righteous consent from the owning persons.  On a crisp notion, the first one is legally acceptable, while the latter one comes under an illegal act that is punishable by law as well.
How to Become an Ethical Hacker After the 10th or 12th?
Now, you have got the idea of types of hackers that one can sincerely practice to become a lawful ethical hacker in India to stop the unwanted cyberattacks initiated by an illicit black hat hacking professional sitting in some remote location globally.  Ahead, it is time for you to understand the valuable steps you might take to become a highly professional, ethical hacker and work in some reputed organization.
Moreover, we have mentioned some highlighted key measures that one can take to become a nicely working ethical hacking expert:
Start doing some promising courses in computer programming as it is highly essential to have a strong understanding of computer programming languages in order to become an ethical hacker. Programming language courses such as C, C++, Java, and Python are good options.
Learn more about operating systems and networking. Operating systems such as Windows, Linux, and Mac OS X, as well as networking protocols such as TCP/IP, are essential for any ethical hacker to understand. Do both courses one by one to understand the path of cyber security in a better way.
In addition, get certified in ethical hacking by taking a particular ethical hacking course facilitated by a high-time ethical hacking institute in India. In this regard, there are several certifications available, such as the Certified Ethical Hacker (CEH), CompTIA Security+, or 1 Year Diploma in Cyber Security Course by Craw Security, etc.  As a result, these certifications can help demonstrate your knowledge and abilities as an ethical hacker.
Develop your skills. Practicing your skills through hands-on experience is essential to becoming an ethical hacker. This can include participating in online challenges and competitions or working on open-source projects after doing a verified ethical hacking course from an accredited institution.
Stay up to date on the latest threats. Knowing the latest techniques and tactics used by cybercriminals is essential for any ethical hacker. Staying up to date on the latest developments in the industry can help you stay ahead of the curve.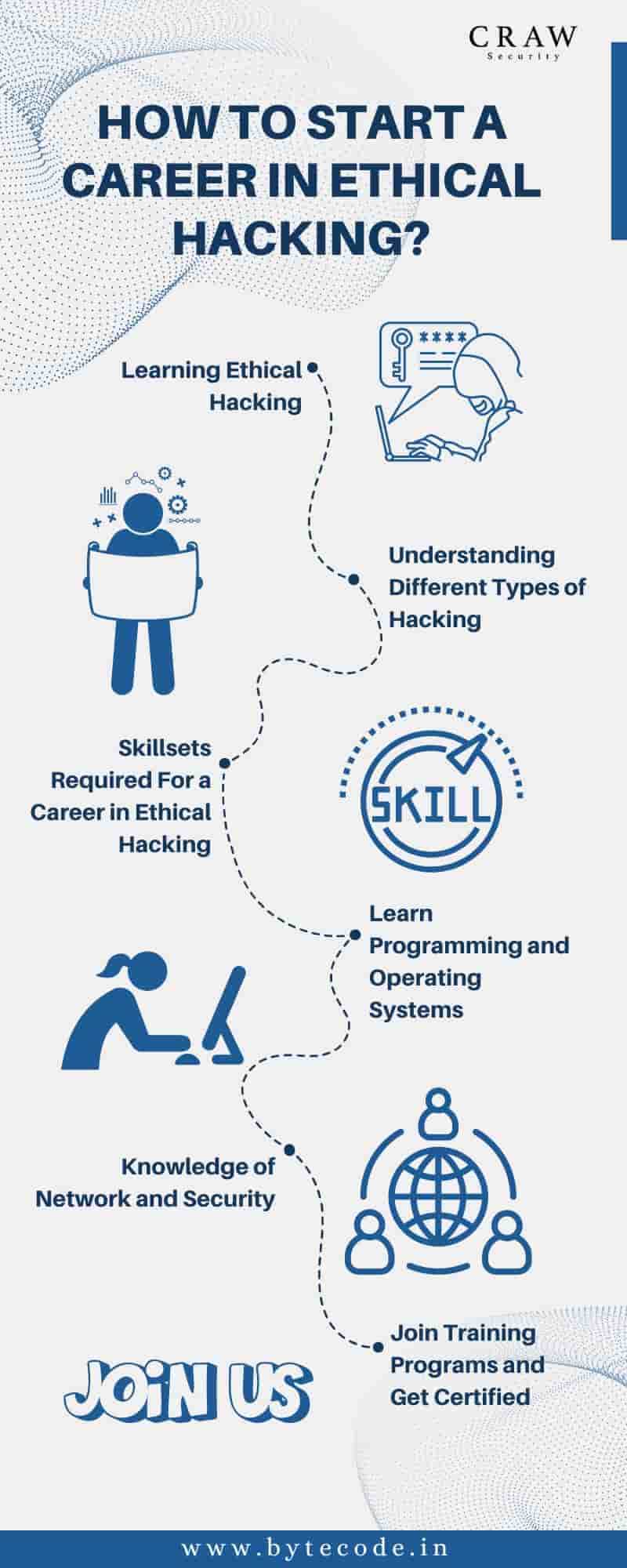 Ethical Hacking Course Institute in India
If we talk about becoming an ethical hacking professional in India, one would definitely think of doing a preferred ethical hacking course from a verified source such as a remarkable institution or an online course-providing platform.  However, it is pretty hard to find an appropriate ethical hacking course in India, but at Bytecode Security – a subsidiary branch of Craw Cyber Security Institute, one can nicely opt for a world-class Ethical Hacking Course right under the nose of promising trainers who are duly certified and skilled with years of genuine experience as a proven security professional in some organization.
Moreover, at Bytecode Security, one can also opt for a 1 Year Cyber Security Diploma Course, which will provide the following mentioned best cyber security course with a 12-course systematic approach, such as the following:
Basic Networking Course
Python Programming Course
Linux Essentials Course
Ethical Hacking Course
Advanced Penetration Testing
Mobile Application Security
Web Application Security
Cyber Forensics Investigation
IoT Penetration Testing
Endpoint Security
AWS Associate Course
AWS Cloud Security Course
These courses are genuinely accredited by FutureSkills Prime, a MeitY – NASSCOM, Digital Skilling Initiative, and duly approved by the Government of India.  Apart from it, one can also do this ethical hacking course online under the guidance of the same trainers that deliver the offline version of it.
Apart from it, the ethical hacking course fees is very nominal and almost every household individual can handle and use it for having a fantastic career ahead.
Who is this course for?
This course can certainly be joined by the following persons with a positive mindset to become something great in life with the help of this trajectory of ethical hacking and cyber security:
12th Passed Students
College Passed Students
Network Associates
Python Programmers
Current IT Staff who wish to enhance their skill set in the IT Security domain.
A Non-IT personnel is willing to learn more about Cyber Security and Ethical Hacking and become a world-class Ethical Hacking professional., etc.
Career Prospects After Ethical Hacking Certification
If a person successfully undergoes the above-mentioned courses and falls under their clubbed pattern widely renowned as 1 Year Diploma in Cyber Security Course, then the same would be above to land a suitable job as a promising cyber security analyst in some reputed organization as Bytecode Security provides '100% Placement Guarantee' after the completion of this 1 Year Cyber Security Diploma Course.
Systems auditor
Security analyst
Encryption specialist
Secure programmer
Security manager
Network security specialist
System security architect
Ethical hacker
System administrator
Frequently Asked Questions
About Ethical Hacking Course After 10th and 12th
1: What are the basic requirements to learn Ethical Hacking?
To become an ethical hacker, a person needs to command the following things:
Networking skills
Linux Essentials fundamentals
Python programming language
2: I am 12th pass, how can I become an ethical hacker?
Yes, you may learn the ethical hacking course very nicely, no matter if you are only 12th class pass, as we do provide this 1 Year Cyber Security Diploma Course and the Ethical Hacking Course with the basic eligibility criteria of 10th class passed certificate from a recognized board.
3: What will you learn in this Ethical Hacking for Beginners Tutorial?
In the demo session, you will learn about the overview of ethical hacking and much other relevant stuff, which will ultimately help you understand ethical hacking and some additional trajectories in a better way.
4: Why Learn a Hacking Course?
First of all, we will offer you an ethical hacking course; no direct hacking education will be provided to you on the premises of Bytecode Security.  In this ethical hacking course by Bytecode Security, you will come across learning how to conduct vulnerability assessments, penetration testing, and system security auditing.
Additionally, you will learn how to detect and respond to malware and other malicious activities, as well as how to develop strategies for countering cyber-attacks.
5: Why Choose Ethical Hacking as a Career?
One can choose ethical hacking as a career for the below-mentioned reasons:
High Demand
High Salaries
Challenging Work
Work-Life Balance
Distinguished Respect in Society
6: Can I learn ethical hacking by myself?
There is nothing that a man cannot do.  However, if you choose to study the ethical hacking course by yourself, you just require to enroll yourself in a self-paced course at Bytecode Security in which you will come across the pre-recorded sessions of various high-end ethical hackers as trainers and mentors teaching you to be one of them.
7: Which course is best for ethical hacking?
The ethical hacking course by Bytecode Security or the 1 Year Cyber Security Diploma by Bytecode Security is the best fit for you to initiate your career trajectory as an ethical hacking professional.
8: Can I learn ethical hacking for free?
There are multiple courses in the wild that teach ethical hacking for free.  However, the access to the knowledge they are providing to learners is very restricted, and learners will come to know that this step was only meant to take their database and pitch the real-time paid course afterward.
On the other hand, learners can opt for this 1 Year Cyber Security Diploma course with almost very nominal fee to learn ethical hacking and other important stuff under the primetime guidance of a working hacking professional having several years of authentic experience.
9: Can I learn ethical hacking in 6 months?
Yes, there is a 6-month course for learning cyber security, including an ethical hacking course as a step within 6-Months Information Security Diploma by Bytecode Security.
10: Which course is best after 12th for hacking?
The 1 Year Cyber Security Diploma course by Bytecode Security is the best you can choose after the successful completion of the 12th class from a recognized board.
Conclusion
In the bottom line, we tried pretty hard to let you all understand the basic things related to an ethical hacking course after the 10th or 12th is completed by a valuable and recognized board in India.  Moreover, we also gave the reference of Bytecode Security – a subsidiary branch of Craw Security for doing the ethical hacking course and 1 Year Cyber Security Diploma from it under the supervision of world-class mentors and trainers.