AWS Associate Course in Delhi
Bytecode Security provides a real AWS Associate Certification in Delhi, offering a comprehensive course taught by highly educated and experienced instructors specializing in cloud computing. The program is designed to foster dedication and excitement among students.  Acquire knowledge and expertise from highly esteemed instructors specializing in AWS training and certification programs located in the vicinity of Delhi NCR.  Enroll in a high-quality AWS cloud computing course guided by experienced and knowledgeable cloud security mentors who have extensive backgrounds in reputable IT firms worldwide.  Gain a comprehensive understanding of the flexible curriculum offered in the advanced facilities of Bytecode Security at its Saket and Laxmi Nagar branches, pertaining to the AWS Certification.
What is AWS Associate?
The AWS Associate certification is a program provided by Amazon Web Services (AWS) that serves to validate an individual's competence in fundamental cloud computing principles and their ability to utilize AWS technology.  There exist multiple AWS Associate credentials, such as the AWS Certified Solutions Architect – Associate, AWS Certified Developer – Associate, and AWS Certified DevOps Engineer – Associate.
Furthermore, these certificates are specifically tailored for individuals who possess a certain level of familiarity with AWS and aspire to authenticate their expertise and competencies for the purpose of professional progression or to fulfill employment prerequisites.
Furthermore, Bytecode Security, a subsidiary of Craw Cyber Security Institution, provides comprehensive AWS training in Delhi, including in-depth penetration testing techniques. Our program ensures that upon completion of the AWS Associate Course, our students receive 100% placement assistance, eliminating the need for them to seek employment elsewhere.
What will you learn in AWS Associate Course in Delhi?
Gain a comprehensive understanding of the fundamental principles of AWS training and certification by engaging with diligent and self-directed approaches embedded within a rigorous curriculum now offered at the institutional branches situated in Saket and Laxmi Nagar areas of Bytecode Security.  Our institution has achieved recognition as the leading training institute in Delhi NCR by providing exceptional quality courses in AWS cloud computing.
Bytecode Cyber Security Institution, a subsidiary of Craw Security, is currently providing an exceptional AWS Associate Certification Course. This course has established Bytecode Security as a leading AWS academy in the Delhi region.
Know the Best AWS Training Institute in Delhi
Given the rapid evolution of technology in contemporary society, it is imperative that individuals seek certification from a reputable AWS Training Institute in the Delhi National Capital Region (NCR). Such certification will effectively augment our knowledge and understanding to its fullest potential.  Bytecode Security, a subsidiary branch of Craw Security, has established itself as a prominent player in the current market for cloud security course providers.
Moreover, it can be asserted that via the assistance of our exceptionally supportive instructors and learners, Bytecode Security has established itself as a leading institution for AWS training in Delhi.  In addition, anyone seeking to enhance their knowledge and skills in AWS can benefit from the comprehensive AWS Associate Course in Delhi. This course is widely recognized as the top choice for beginners in 2023, offering access to highly experienced and competent training mentors with extensive expertise in the field.
Learn AWS Certification Course Online 2023
Additionally, we provide an online iteration of the Amazon Web Services Course in Delhi in order to enable global accessibility for aspiring AWS associate course participants.  In addition to the standard AWS associate certification, Bytecode Security also provides an advanced AWS online training course in the vicinity of Delhi NCR.
In the context of this AWS associate course, diligent students will acquire the necessary knowledge and abilities to effectively make architectural choices by employing the architectural principles endorsed by AWS Associate.  The AWS Associate Course distinguishes itself from other AWS courses by offering foundational knowledge and introductory-level content on cloud computing.
Know Your Eligibility for AWS Associate Course
Numerous esteemed institutions offer specialized cloud security courses that are designed in-house, following the completion of a recognized bachelor's degree in a related discipline.  The AWS Associate Course is offered to individuals who meet the specified qualifications at Bytecode Security.
12th passed certificate from a recognized board.
Must have experience working with AWS cloud services.
Understanding of basic IT concepts.
Some experience with scripting and automation.
Working knowledge of at least one high-level programming language.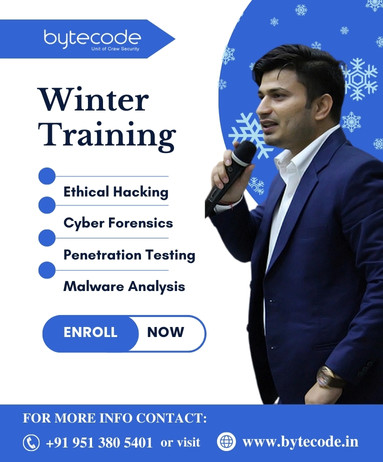 AWS Associate Training Certification Course Developing skills to make architectural decisions using AWS Associate recommended architectural principles. AWS Associate Course is usually different from other AWS courses. Learn AWS Training Course gives the learner think about the entire process of architecture.
Learn From Home with Online Training
Bytecode Cyber Security Provide 24x7 Classes
Students can attend classes from their homes. It takes less time to attend an online class. At the same time, various groups can attend online classes with bytecode Cyber Security From home.
AWS Associate Course Content
Module 01: Design Resilient Architectures
Module 02: Design High-Performing Architectures
Module 03: Design Secure Applications and Architectures
Module 04: Design Cost-Optimized Architectures
Course Duration
Course Duration: 40 Hours
Course Level: Intermediate
Include: Training Certificate
Language: English, Hindi
Course Delivery: Classroom Training

Our Students Placed in Companies
Our Google Reviews
Frequently Asked Questions
About AWS Associate Course