Advance Penetration Testing Course in Delhi | Best Penetration Testing Institute in Delhi
Acquire knowledge in the current and popular field of Penetration Testing by enrollment at a reputable institute located in Delhi.  This institute boasts exceptional teaching staff and provides top-notch mentorship to its students.  Furthermore, Bytecode Security offers highly reputable Penetration Testing Courses in the Delhi area led by distinguished faculty members.  These courses aim to provide comprehensive and reliable instruction in the field of Pentesting, specifically focusing on the identification and assessment of potential threats and vulnerabilities within IT infrastructures or websites.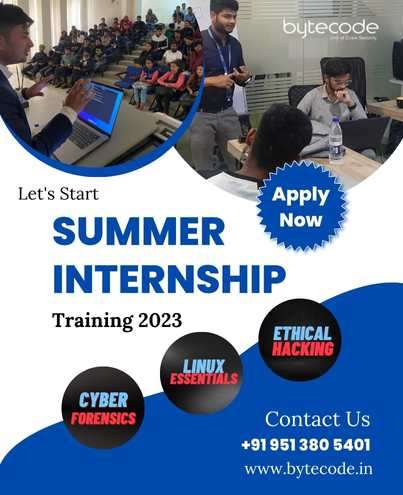 What will you learn in Advance Penetration Testing Course in Delhi?
The fundamentals of Penetration Testing Course are somewhat an integral part of information security since it possesses the needful methodologies to extract the potential threats, loopholes, and vulnerabilities in an IT infrastructure, networking, a circuit of IoT devices, or even a website of a personalized individual or an organization.
A dedicated understudy will have all the necessary knowledge processing related to the in-depth curriculum associated with the Penetration Testing Course Training in Delhi.
What is Penetration Testing?
Penetration testing, sometimes referred to as pen testing, entails the execution of a simulated cyber attack on a computer system, network, or online application with the purpose of identifying potential vulnerabilities that can be exploited.  The principal objective of penetration testing is to detect vulnerabilities in security measures, potentially acquire unauthorized access to confidential information, and evaluate the system's efficacy in safeguarding itself against cyber hazards.
Furthermore, these penetration tests are carried out under the guidance of proficient ethical hackers or trained penetration testers who employ identical methodologies as malicious attackers in order to detect security weaknesses and vulnerabilities.
Go for the Best Penetration Testing Course in Delhi
The Penetration Testing Course is considered a crucial component of information security due to its comprehensive methodologies for identifying potential threats, vulnerabilities, and loopholes in various IT infrastructures, networks, IoT device circuits, and even personalized individual or organizational websites.
A diligent apprentice will possess the requisite cognitive abilities pertaining to the comprehensive curriculum associated with the Penetration Testing Course in Delhi.  This course, widely recognized as the premier and the Best Penetration Testing Certification in India, provides students with an official recognition of the knowledge they have acquired throughout the program.  This certification serves as a means for individuals to demonstrate their expertise to potential employers and other industry professionals, thereby validating their skill set.
Learn From Home with Online Training
Bytecode Cyber Security Provide 24x7 Classes
Students can attend classes from their homes. It takes less time to attend an online class. At the same time, various groups can attend online classes with bytecode Cyber Security From home.
Advance Penetration Testing Course Content
Module 01: Penetration Testing: What You Should Know
Module 02: Comprehensive Pentest Planning, Scoping, and Recon
Module 03: In-Depth Scanning
Module 04: Exploitation
Module 05: Domain Domination
Module 06: Getting Comfortable with Kali Linux
Module 07: Command Line Fun
Module 08: Practical Tools
Module 09: Bash Scripting
Module 10: Passive Information Gathering
Module 11: Active Information Gathering
Module 12: Vulnerability Scanning
Module 13: Web Application Attacks
Module 14: Introduction to Buffer Overflows
Module 15: Windows Buffer Overflows
Module 16: Linux Buffer Overflows
Module 17: Client-Side Attacks
Module 18: Locating Public Exploits
Module 19: Fixing Exploits
Module 20: File Transfers
Module 21: Antivirus Evasion
Module 22: Privilege Escalation
Module 23: Password Attacks
Module 24: Port Redirection and Tunneling
Module 25: Active Directory Attacks
Module 26: The Metasploit Framework
Module 27: PowerShell Empire
Module 28: Assembling the Pieces: Penetration Test Breakdown
Module 29: Trying Harder: The Labs
Course Duration
Course Duration: 40 Hours
Course Level: Intermediate
Include: Training Certificate
Language: English, Hindi
Course Delivery: Classroom Training
Opt For The Best Penetration Testing Course For Beginners
The Penetration Testing Course for Beginners offered by Bytecode Security at their Saket and Laxmi Nagar locations in Delhi encompasses a comprehensive curriculum that covers a wide range of topics.  This course is designed to provide a thorough and quantitative approach to the subject matter.  It is delivered by highly experienced and skilled instructors, making it a valuable educational opportunity.
Our institute offers a comprehensive and authentic Introduction to Pentesting program, which distinguishes us from other institutes in the industry.
Furthermore, Bytecode Security offers a famous Penetration Testing Certification to individuals who successfully finish the Penetration Testing Course Training in Delhi at their esteemed institutions located in two highly regarded educational centers within the National Capital Territory of Delhi.
World-Class Penetration Testing Course Syllabus
Many institutions offering Penetration Testing courses often include additional content that is not essential to the curriculum.  However, they market these courses to unsuspecting students, parents, or guardians by emphasizing the extensive curriculum they provide.
However, the Bytecode Security Institution offers an authenticated and accredited Penetration Testing Full Course that excludes additional content.  This approach allows students to concentrate on the essential aspects of acquiring new strategies and tools pertaining to the Penetration Testing Course, thereby optimizing their time utilization.
Best Penetration Testing Course Online
The Bytecode Security Institution offers a comprehensive Penetration Testing Course Syllabus that is highly regarded for its authenticity.  This syllabus is available in both online and offline instructor-led classroom formats, making it accessible to a wide range of learners.
The online course on penetration testing offers a comprehensive introduction to the fundamental concepts and procedures involved in the field.  Participants will have the opportunity to gain knowledge on various tools utilized in the distinguished operational aspects of penetration testing certification.
Key specializations to the Best Penetration Testing Course in Delhi:
•   Designed with the best service providers' most common penetration testing practices.
•   Network Penetration Testing Perimeter Devices.
•   Penetration Testing Scoping and Engagement.
•   Social Engineering Penetration Testing.
•   IoT Penetration Testing.
•   Cloud Penetration Testing.
•   OT/SCADA Penetration Testing.
•   Web Application Penetration Testing.
•   Wireless Penetration Testing.
•   Binary Analysis and Exploitation.
Best Penetration Testing Training Institutes in Delhi with 100% Job Assistance
The contemporary global landscape is witnessing a significant shift towards a proliferation of individuals with expertise in hacking, engaging in unauthorized activities either for recreational purposes or to enhance their hacking proficiencies inside very restrictive contexts.  To mitigate these hacking attempts, it is imperative that we implement comprehensive penetration testing protocols through reputable penetration testing training institutes in Delhi.  These institutes should offer 100% job support to ensure successful employment opportunities for our aspiring learners seeking to pursue a rewarding career in this expansive field.
Furthermore, students who desire to enhance their higher education through the assistance of this effective penetration testing training have the option to select this training program from our reputable source, Bytecode Security.  This organization provides the finest education in the field of penetration testing, delivered by highly competent, motivated, and certified trainers.
Our Students Placed in Companies
Our Google Reviews
Frequently Asked Questions
About Penetration Testing Course