CompTIA Cybersecurity Analyst (CYSA+) Training Certification
Classroom Training & Online Training Available
The CompTIA Cybersecurity Analyst (CySA+) certification is a vendor-neutral credential. The CompTIA CySA+ exam is an internationally targeted validation of intermediate-level security skills and knowledge. While there is no required prerequisite, the CompTIA CySA+ certification is intended to follow CompTIA Security+ or equivalent experience and has a technical, "hands-on" focus on IT security analytics.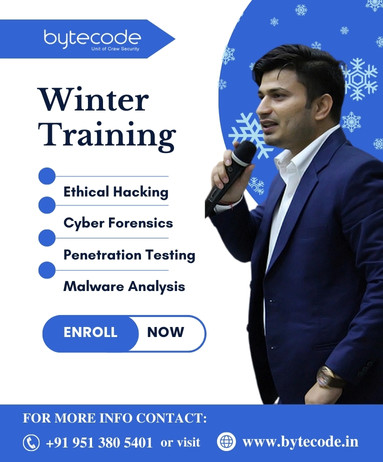 About the CompTIA Cybersecurity Analyst (CySA+) Training Certification
The CompTIA CySA+ examination is designed for IT security analysts, vulnerability analysts, or threat intelligence analysts. The exam will certify that the successful candidate has the knowledge and skills required to configure and use threat detection tools, perform data analysis and interpret the results to identify vulnerabilities, threats, and risks to an organization with the end goal of securing and protecting applications and systems within an organization.
Learn From Home with Online Training
Bytecode Cyber Security Provide 24x7 Classes
Students can attend classes from their homes. It takes less time to attend an online class. At the same time, various groups can attend online classes with bytecode Cyber Security From home.
Eligibility Criteria
Any graduate, undergraduate or post-graduate student having a passion for information security can undergo our Cyber Security course in Delhi and become a certified ethical hacker. If you are willing to know more about the course or admission eligibility, just give us a call and we will suggest the best batch option for you.
Our Curriculum

Module 01: Threat Management 1
Module 02: Threat Management 2
Module 03: Vulnerability Management
Module 04: Cyber Incident Response
Module 05: Security Architecture
Course Duration
Course Duration: 60 Hours
Course Level: Intermediate
Include: Training Certificate
Language: English, Hindi
Course Delivery: Classroom Training
Prerequisites
The CompTIA IT Fundamentals exam is designed to help you learn more about the world of information technology (IT). It's ideal if you're considering a career in IT or if you work in an allied field that requires a broad understanding of IT. CompTIA IT Fundamentals can also be a stepping stone to more advanced certifications such as CompTIA A+, and, with specialized experience, CompTIA Network+, and CompTIA Security+.
What Skills Will You Learn?
Threat and Vulnerability Management
Software and Systems Security
Compliance and Assessment
Security Operations and Monitoring
Incident Response
Our Students Placed in Companies
Our Google Reviews
Related Course
Frequently Asked Questions
About CompTia CYSA Plus training and certification course program