Mobile Application Security Course in Delhi
Individuals interested in pursuing a career in Mobile Application Security have the opportunity to enroll in the esteemed Mobile Application Security Course in Delhi.  This course is offered at the advanced facilities located in the Saket and Laxmi Nagar branches of the Bytecode Cyber Security Institute.  It is recommended to secure a spot in this course as soon as possible.  This advanced Mobile App Security Training program aims to augment participants' knowledge, skills, and expertise in effectively validating the security protocols specifically linked with prominent mobile applications.
In addition, this genuine course will aid participants in identifying and mitigating potential vulnerabilities inside a designated mobile application.  This leads to a significant degree of assurance in the real-time operational capabilities.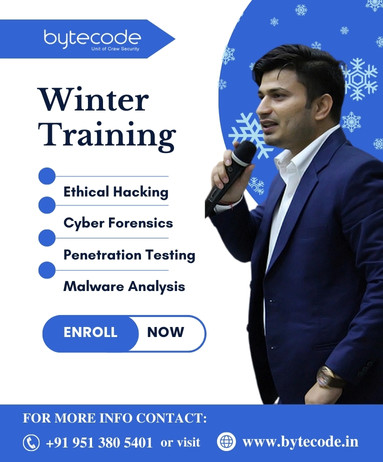 Mobile Application Security Course Content

Module 01: Introduction to MPT
Module 02: Lab Setup
Module 03: Android Architecture
Module 04: APK file Structure
Module 05: Reversing App with Apktool
Module 06: Reversing App with MobSf
Module 07: Static Analysis
Module 08: Scanning Vulnerability with Drozer
Module 09: Improper Platform Usage
Module 10: Insecure Data Storage
Module 11: Insecure Communication
Module 12: Insecure Authentication
Module 13: Insufficient Cryptography
Module 14: Insecure Authorization
Module 15: Client Code Quality
Module 16: Code Tampering
Module 17: Reverse Engineering
Module 18: Extraneous Functionality
Module 19: SSL Pinning
Module 20: Intercepting the Network Traffic
Module 21: Dynamic Analysis
Module 22: Report Preparation
Module 23: IOS Penetration: Basics
Learn From Home with Online Training
Bytecode Cyber Security Provide 24x7 Classes
Students can attend classes from their homes. It takes less time to attend an online class. At the same time, various groups can attend online classes with bytecode Cyber Security From home.
What is Mobile Application Security?
Mobile application security refers to the comprehensive set of activities involved in the development, testing, and ongoing maintenance of mobile applications, with the primary objective of safeguarding them against potential threats posed by malicious attacks and unauthorized access to sensitive data.  This encompasses the identification and mitigation of security vulnerabilities inside the codebase of the application and the implementation of robust authentication and authorization protocols.
In addition, it encompasses the task of guaranteeing that the application complies with established industry norms regarding the preservation of data and user credentials.  Furthermore, the realm of mobile application security encompasses several strategies aimed at safeguarding against potential risks such as data leakage and other forms of security vulnerabilities.
What will you learn in Mobile Application Security Training in Delhi?
The faculty members at Bytecode Cyber Security Institute, a reputable training institution, possess extensive training and expertise.  They are well-equipped to provide a comprehensive Mobile Application Security Course in Delhi.  Furthermore, the branches located at Saket and Laxmi Nagar provide a high-quality mobile app security course that incorporates cutting-edge equipment, tools, and methodologies.  These courses are conducted in interactive classroom sessions.
Upon successful completion of the mobile application security course, a student will have the opportunity to secure a legitimate career as a mobile app security professional inside a reputable IT business in the industry.  Bytecode Security will provide a Mobile Application Security Testing Course that includes a legitimate certificate to verify the acquisition of skills and knowledge obtained through high-quality classroom training.
Importance of Mobile Application Security Course
The significance of mobile application security has the utmost importance in the contemporary realm of cybersecurity.  The increasing dependence of individuals on mobile devices has provided an opportunity for bad actors to exploit the inherent weaknesses of these systems, thereby gaining unauthorized access to and manipulating the data stored within them.  Therefore, it is imperative for developers and users alike to possess a comprehensive understanding of the fundamental principles of mobile application security, the potential hazards linked to mobile applications, and the methodologies and resources employed to safeguard them.
By enrolling in a mobile application security course, users can acquire fundamental knowledge regarding mobile application security, encompassing secure coding methodologies and the principles of secure application design.  In addition, individuals have the opportunity to acquire knowledge on optimal methodologies for the development, implementation, and administration of secure mobile applications.
Furthermore, students have the opportunity to develop a comprehensive comprehension of the various categories of risks that might potentially impact mobile devices, as well as the requisite security measures that have to be deployed in order to safeguard them.  The mobile application security course offered by Bytecode Security, a renowned institute for mobile application security in India, serves as a valuable resource for developers seeking to enhance their understanding of the need to regularly update their mobile applications with the latest security patches and upgrades.
Learn Online Mobile Application Security Training
In order to provide widespread access to this accredited online course on mobile application security, it is imperative that all individuals with a strong inclination toward this particular field of study are reached.  To enhance their employment prospects in this field, numerous students are enrolling in an online course focused on mobile application security.  By doing so, they are actively striving to distinguish themselves as specialists specializing in mobile app security.
Furthermore, individuals can obtain certification as a specialist in mobile application security through our reliable and rigorous educational approaches.  These techniques are guided by highly skilled teachers who possess extensive experience in providing comprehensive training in this field.
You will learn in Mobile Application Security Course:
The Mobile Application Security Course aims to provide instruction on the many security risks and vulnerabilities that are commonly connected with mobile device platforms, specifically focusing on Android and iOS.  Furthermore, this course will provide instruction on the identification, evaluation, and reduction of risks associated with mobile apps, as well as an understanding of contemporary standards for ensuring security in mobile application development.
In addition, the course will provide an opportunity to delve into various tools and methodologies pertaining to the evaluation of application security, reverse engineering, and the implementation of secure coding practices.  Moreover, you will acquire a comprehensive comprehension of the mobile threat landscape as well as the regulatory compliance requirements
Course Duration
Course Duration: 40 Hours
Course Level: Intermediate
Include: Training Certificate
Language: English, Hindi
Course Delivery: Classroom Training

Our Students Placed in Companies
Our Google Reviews
Frequently Asked Questions
About Mobile Application Security Course