What is External Infrastructure Penetration Testing?
In a world full of technology-based devices, Vulnerability Assessment and Penetration Testing (VAPT) is like water to a thirsty crow who has been searching for it for ages. In addition, if an organization is desperately trying to reach out to a verified VAPT Services Provider in India. Furthermore, Bytecode Security, the best VAPT Solutions Provider in India and other distinguished nations, offers a variety of External Infrastructure Penetration Testing Services to all its regular and prospective clientele in the global market.
We also engage our superb-level team of experienced penetration testing professionals at your organization's target IT infrastructures with our best-in-class Internal Infrastructure Penetration Testing Service in India.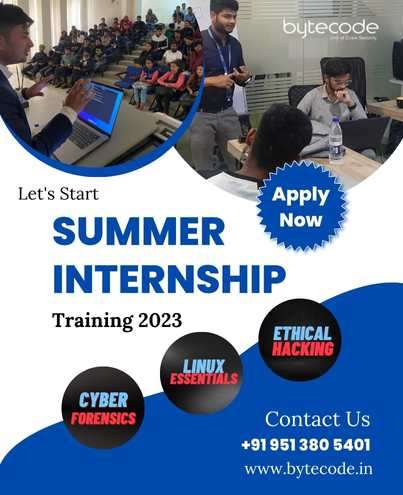 External Penetration Testing Checklist
It can be described as a set of algorithms, patterns, tricks, and techniques used by Bytecode Security's team of experienced pen-testing professionals to extract every single vulnerability in an IT environment's External Infrastructures. In this method, our team does some meeting sessions with the higher officials of the organization. It makes a corresponding External Penetration Testing Checklist that includes some needful steps to keep in mind while processing the distinguished steps related to External Penetration Testing.
In this regard, there are various procedures that a professional penetration tester can process. Moreover, you need to trust Bytecode Security to provide genuine External Penetration Testing Services, and our team will assure the rest of experienced and skilled pen-testing professionals.
External Penetration Test
As bytecode Security is one of the superior VAPT Services Providers in India and other nations worldwide, it is highly committed to offering world-class VAPT Solutions to its clients, hailing from almost every genre in the worldwide market. Subsequently, External Penetration Test can be performed using some esteemed tricks, tools, and techniques.
External penetration Testing Methodologies
There can be different process by which a person extract all the vulnerabilities in the corresponding target IT infrastructures, such as the following table:
Planning

Gather Scoping Information:  After taking the project in hand, our team has to take all the scoping information from the organization's higher officials.
Review Rules of Engagement:  In this step, a short meeting is involved with the higher managers of the enterprise to brief and acknowledge the penetration testing fundamentals guidelines of engagement, set up the project scope & testing timeline, establish specialized testing objectives, document any particular testing restraints, and try to evaluate the answer any questions related to the project.

Execution

Reconnaissance:  This step comes into effect once the test officially begins. Generally, a start notification will be sent to the client mentioning the commencement of the project. In the initial step, many informatory works, such as open-source intelligence gatherings and reviewing publicly available info and resources, get accomplished.
Threat Modeling:  The threat modeling step helps assess the types of threats that may affect the prey in coverage.
Vulnerability Analysis:  This phase will confine the discovery and computation of all circumferential marks/ applications.
Exploitation:  In this simple step, all extracted vulnerabilities and threats that are tracked down in the previous step of the vulnerability assessment and exploited in every possible manner so that a hacker can understand the extent of the damage that the real-time black hat hacker could cause.
Post Exploitation:  Once you complete the successful exploitation process, consider infrastructure analysis, pivoting, sensitive data identification, data exfiltration, and identification of high-value targets/ data. All the extracted vulnerabilities will be recorded for further process of making suitable plans of security planning from a new edge.

Post-Execution

Reporting:  Our expert team of experienced penetration testing professionals will offer a deep-essenced database of the vulnerability finding along with their security patches in an adequately documented version.
Quality Assurance:  In this subset of the Post-Execution phase, all the corresponding assessments go via a rigorous technical and editorial quality assurance procedure. However, this may also comprise some follow-ups with the higher management officials of the organization to assure or deny some functions details as per the requirement.
Presentation:  This is the utmost final step where the pentesters' team presents all the findings along with their corresponding patches in an adequately documented version in the presentation.
External Penetration Testing Tools
Furthermore, the genuine and best External Penetration Testing Tools that can be the game-changing aspect for anyone who is thinking of taking the facility of External Penetration Testing Service in India by bytecode Security's expert pen-testing professionals are as follows:
Burp Suite Pro
Dirbuster/Dirb/GoBuster
Nikto
Sqlmap
Nessus
Recon-ng
Metasploit Framework
Nmap
Custom Scripts
Hydra
GHDB
The Harvester
Bytecode Security is one of the primetime External Penetration Testing Companies that offers its best-in-class External Infrastructure Penetration Testing Services with its world-class pentesting professionals.
What is Internal Penetration Testing?
The varied processes used to tackle the in-house or internal applications penetration testing of an organization's internal infrastructures are known as Internal Infrastructure Penetration Testing. In this regard, Bytecode Security is one of the shining names that provides its high-end authentic Internal Infrastructure Penetration Testing Services throughout Pan India and other dedicated countries.
Hence, if you are one of those organizations keenly searching for world-class Internal Infrastructure Penetration Testing Services in every minor to a significant region of the Republic of India, then your search is over now as Bytecode Security is supplying its best-in-class services penetration testing professionals on the job. Moreover, our highly qualified and well-experienced penetration testers have deeply analyzed experience in providing world-class pentesting solutions to more than 500+ successful businesses in their respective official working tenure worldwide.
Internal Penetration Testing Checklist
Just like the External Infrastructure Penetration Testing Checklist, this particular Internal Penetration Testing Checklist includes the number of steps to be performed after a thorough dialogue process via a brief meeting session with the higher management official of the target organization. Subsequently, these sessions can benefit both parties as our team needs to understand every sharp and crisp detail that the management is willing to change or enhance on the security patterns of its Internal Infrastructures regarding the IT environments.
Some of the main steps of configuring the Internal Penetration Testing Checklist are as follows:
Scheduling (2-4 months before Penetration Test)
Testing Preparation (5 weeks before Penetration Test)
Testing (During Penetration Test)
Reporting (0-6 weeks after Penetration Test)
Retesting (0-3 months after Penetration Test)
Internal Penetration Test
After the meeting sessions with the higher officials of the target organization, the thorough Internal Infrastructure Penetration Test processes start. In this regard, there are several Internal Penetration Testing Methodologies included that are described thoroughly in the below-mentioned lines:
Internal Penetration Testing Methodologies
The Internal Penetration Testing Methodologies has almost four steps that need to be obeyed while working on the Internal Infrastructure, such as the following-mentioned steps:
| | |
| --- | --- |
| Reconnaissance | This is the first step of the Internal Penetration Methodologies, which comprises passive intelligence collection from any available source—for example, analyzing the traffic and "sniffing" networks. |
| Mapping | In this most crucial phase of Mapping, the working team of pentester gains a better insight into the most vulnerable and sensitive elements of an enterprise's IT environment. However, this is a very crucial phase, especially when you are searching for vulnerabilities within the overall framework rather than just one particular aspect, like guest Wi-Fi. |
| Discovery | In this step, the team tries to actively hunt for every major to a minor vulnerability that can give back-door entry to potential hackers, using automated programs dedicatedly developed to scan the entire network (and software) as deeply as possible. |
| Exploitation | In this final step, the team tests all the available exploitation flaws tracked during the discovery phase. In addition, the team checks every possible way by which a potential hacker can exploit the vulnerabilities. |
Internal Penetration Testing Popular Tools
In the league of providing authentic Internal Infrastructure Penetration Testing Processes, several tools can be employed by our team of experienced pen-testing specialists, such as the following mentioned in the corresponding table:
For Frameworks

Kali Linux
Backtrack5 R3
Security Onion

For Reconnaissance

Smartwhois
dnsstuff
CentralOps
DIG
nslookup
netcraft
Have I been pwned?

For Discovery

OpManager
Maltego
nmap
Colasoft ping tool
Angry IP scanner
LanSurveyor
NetResident

For Enumeration

Netbios enumerator
Superscan
Ps Tools
Enum4Linux
Netscan
nslookup
NsAuditor
Jxplorer
DumpSec
Hyena
WinFingerprint
Snmpcheck

For Scanning

GFI Languard
Nexpose
SAINT
Retina

For Password Cracking

John The Ripper
Cain & Abel
Ncrack
Ophcrack
LC5
Rainbow Crack
Hydra

For Sniffing

Ettercap
Wireshark
Capsa Network Analyzer

For Exploitation
Frequently Asked Questions
About External Infrastructure Penetration Testing | Internal Infrastructure Penetration Testing