Ethical Hacking Franchise
Bytecode Security Provide Best Training and Certifications in Delhi Laxmi Nagar. Bytecode Security is seeking some enthusiastic or interested partners who could ably go ahead in future mutually. It is one of the Leading, Fastest and Finest Growing IT and IT Security business opportunities to all. We take our partnering very seriously and our team would always be there to assist/help you. This is the only perfect platform where you can achieve all your goals and dreams of this industry. We guide you at each of your single steps right from creating and delivering the best, So if you are passionate about the business and your goals, We invite you to write a grand success story bytecode.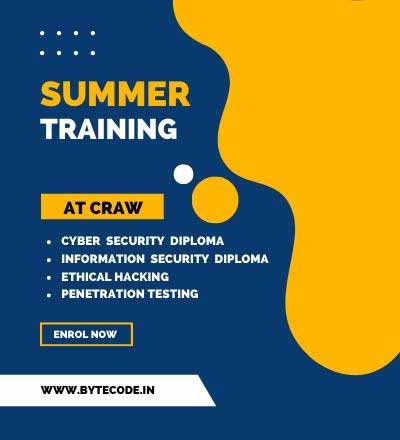 Franchise Process
Start your own IT-Education business with The Renowned IT brand
In the Field of Information Security, bytecode Security is a Quality based Organization, So Owning a bytecode Security Training Center will be a remarkable experience for your Business. Over years and Years, bytecode Security is becoming India's N0 1 Training Company in the Information Cyber Security domain. Why bytecode Security has gone so far in its franchise setup program because of the organization of the partners and the support we give to our franchise partners.
1. Sign Up For Franchise
In the Field of Information Security, Craw Security is a Corporate Training and International Certification Institute which provides Premium Quality Education in Collaboration of Trusted Authorities and International Vendors in Cyber Security, It Security, Artificial Intelligence Python Cisco, Microsoft, Redhat, Checkpoint, Juniper.

Learn From Home with Online Training
Bytecode Cyber Security Provide 24x7 Classes
Students can attend classes from their homes. It takes less time to attend an online class. At the same time, various groups can attend online classes with bytecode Cyber Security From home.
2. Brief Discussion Phase
Why bytecode has gone so far in its franchise setup program because of the trust of the Partners they experience with us during their whole working time period till now. Great Incentives and Sharing ratio for franchise partners. During this phase, proper discussion about running a business in a specific area will be done with the expert panel of bytecode.
3. Documentation Phase
Bytecode Security Training Center will be a remarkable experience for your Business purpose as we provide a 100% job guarantee for those who trust us. In the Documentation Phase, all required documents of both the parties are verified and Legal agreements are done between the franchisee and franchisor.
4. Pay Franchise Fee
The last Phase of the franchise application will complete after the successful payment of the franchise. Support will be provided only after the complete payment of the Franchise Fee. Bytecode Security is becoming India's No.1 Training & Certification in Ethical Hacking. To become our partner by adopting our Franchise.


Franchise Benefits With Bytecode Security
Franchise Web Development
Franchise Web Marketing
Franchise Social Media Marketing
Global Listing of Franchise
Franchise Branding
Database Sharing
Staff Recruitment / Hiring
Franchise Marketing Training
Franchise Trainer Training
launch Marketing Materials
Franchise Support
Social Media Marketing
Virtual Support 24×7
Virtual Lab Access
100% Transparency
Marketing and Promotions
Magazine and Promotions
Placement Assistant
Terms and Conditions
Franchise Agreement
The agreement should be of a minimum of 2 years and renewal is based on mutual understandings or progress reports.
Royalty is charged as 20% and is based on the final gross income.
Security Deposit Your 50% of security deposit for the franchise is fully refundable and the security amount/fee can be decided on mutual understandings.
Bytecode security won't be included in any kind of miscellaneous activity or the proposal can be canceled also.