Red Team Assessment is quite like a penetration test. The red team will try to penetrate and access critical data in any way possible. Their objective is to penetrate the system and access sensitive information in any way possible just like malicious attackers. Our objective is to cater to our clients with:-
Hands-on experience in execution just like malicious attackers perform
A comprehensive view of security controls
Examine the company's response capability to a security incident
There are 3 primary attack sources
Physical access- Vulnerabilities can be located if physical access to the location is gained
Social Engineering- Influencing humans to follow commands may lead to loss of information
Internet- Companies have a lot of assets exposed online which can be misused if compromised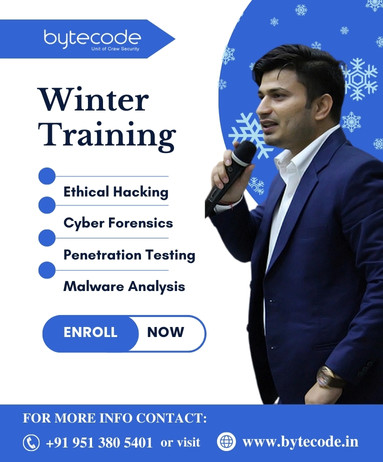 Bytecode Cyber Security is a leading Red team assessment
company
that is well-known for its
out of box thinking and technical expertise as our
Specialized Cyber Security team has bagged certifications in CEH, CREST, OSCP, CISM, CISA, CISSP, ISO 27001.
Our team is the Best VAPT service provider in Delhi. The company's valuable viewpoints, suggestions, and ideas are the benchmark for the industry. We also provide the Best VAPT services for startups in Singapore, India, Canada, UK, the USA, Dubai.
 We are into Conducting Cyber security awareness sessions and VAPT Audits services by our expert Cyber security professionals for various organizations

Learn From Home with Online Training
Bytecode Cyber Security Provide 24x7 Classes
Students can attend classes from their homes. It takes less time to attend an online class. At the same time, various groups can attend online classes with bytecode Cyber Security From home.
Methodologies
This is the stage where we garner information of the target organization which consists of:-
Internet-facing assets (IP addresses, websites, applications, etc.)
User details
Internal application details
Physical site details Also, we require a strong reconnaissance.
After gathering all details about the target, we move towards exploiting this information in the form of phishing emails, making use of shortcomings, an onsite visit to try and breach the physical security. Once completed, we move towards investigating the network and accelerating our access within the network.

Benefits of Red Team Assessment
Analyze the company's ability to locate, respond and safeguard threats
Delivering meaningful mitigation
Providing detailed post-analysis debrief workshops.
Locating areas of improvement
Frequently Asked Questions
About The Application Security Sevices in Delhi