Cyber Forensics
The Bytecode Cyber Security provides Cyber Forensic access to deep forensic capabilities across the globe. We provide Cyber Security Cyber Forensics Services such as forensic accounting, financial analysis, and regulatory knowledge to companies confronting corporate investigations, litigation, and regulatory enforcement challenges. We also offer guidance and assistance with complex technology challenges.
The Bytecode Cyber Security forensic team has more than 10 years of experience working on diverse forensic engagement and bring myriad special skills to your door: accountants, financial analysts, technology experts, former law enforcement officials, economists, statisticians, engineers, and fraud examiners.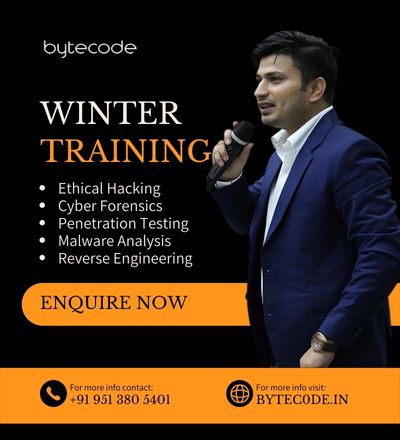 Forensic Investigation & Detective Services
Our Cyber Forensics expert opinion/report is acceptable in the court. We serve a wide range of clients such as corporates, individuals, celebrities, high net-worth individuals, government bodies, etc. Our forensic expert has vast experience working with clients in different industries. If you are looking for the best forensic investigator then VIS is the first name We are active all over the globe, majorly in Indian cities like Mumbai, Bangalore, Pune, Chennai, Hyderabad, Noida, Jaipur, Kolkata, Ahmedabad, and Delhi for handling Cyber Forensic Investigations.

Learn From Home with Online Training
Bytecode Cyber Security Provide 24x7 Classes
Students can attend classes from their homes. It takes less time to attend an online class. At the same time, various groups can attend online classes with bytecode Cyber Security From home.
How Can We Help
We Can Protect You Against Economic Crime, Financial And Reputational Loss
Combat threats to your brand and bottom line.
Assess global risks to your business integrity, reputation and brand.
Gauge potential political risks in emerging markets and new territories.
Help you navigate high-risk environments.
Promote ethical business practices.
Provide investigation support.
Minimize losses from fraudulent /corrupt acts

We Can Help You Set A Standard In Regulatory Compliance
Build productive working relationships with regulatory bodies.
Meet domestic and international standards on compliance.
Update, refine and streamline compliance measures.
Meet internal and external reporting obligations.
Address the risk of corporate and personal liabilities.
We Can Help You Manage Crisis
Provide expert support, combined with prompt, critical action.
Help differentiate between truth and rumor.
Prepare for, respond to, and emerge stronger from difficult situations
We Can Help You Protect Data
Reduce the risk involved in handling / managing sensitive data.
Train your staff to handle sensitive information better.
Protect you against cyber-attacks and security breaches.
Help you inefficient incident handling