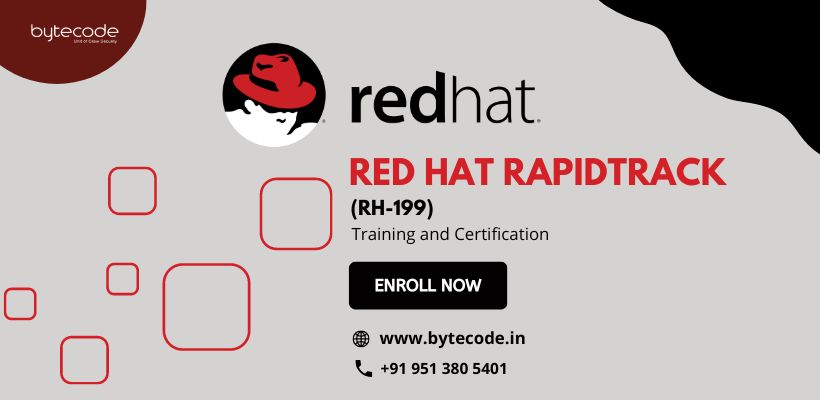 RHCSA Rapid Track Course
Learn the essential RHEL (Red Hat Enterprise Linux) Configuration, administration, and Maintenance in a Condensed format through this magnificently curtailed curriculum of the RHCSA Rapid Track Course (RH199) in Delhi through highly trained, efficient, and experienced teaching faculties and mentors group members that showcase all-around development of the understudies throughout the learning process. The instructors at Bytecode Security are very friendly and cooperative towards building a healthy learning ecosystem in which everyone can learn and thrive towards a better potential.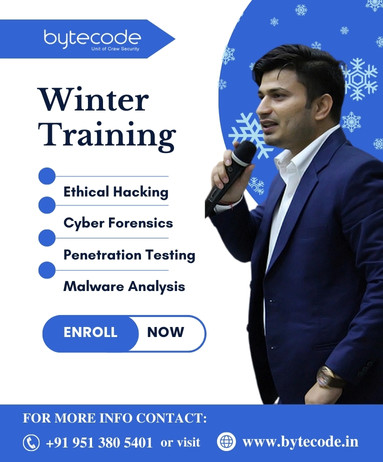 What will you learn in RHCSA Rapid Track Course (v8.2)?
Through the dedicated training of the RHCSA Rapid Track Course (RH199) which is a combination of two courses, namely Red Hat Administration System I (RH124) and Red Hat Administration System II (RH134); Bytecode Security is providing its needful Linux System Administration in the rapid format via its state-of-the-art institutes at Saket and Laxmi Nagar in Delhi NCR. With more pace, an aspiring Red Hat Certification Candidate would do this high-end RHCSA Rapid Track Course (RH199) in Delhi to learn the Linux Administration tools and techniques for a decent encounter with all the necessary information required.
Learn From Home with Online Training
Bytecode Cyber Security Provide 24x7 Classes
Students can attend classes from their homes. It takes less time to attend an online class. At the same time, various groups can attend online classes with bytecode Cyber Security From home.
About RHCSA Rapid Track Course (v8.2)
The enhanced curriculum associated with RHCSA Rapid Track Course (v8.2) is highly recommended for the quick learners who want to build a shinier career in the Linux Administration domain. In addition, this primetime RHCSA Rapid Track Course comprises package management with a new repository structure and app stream modules along with the storage creating devices, volumes, and file systems, including Stratis storage management, etc. This authentic curriculum of this magnificent RHCSA Rapid Track Course is dedicatedly available in the online format as RHCSA Training Online course where one can find this decent course's guidelines in the prerecorded video format to study at one's pace at any of the favorable locations of the choice.
One practicing RH199 Training candidate will enhance and upskill oneself by going through the following mentioned aspects:
➔   Configuring Network facilities and the security protocols
➔   Managing procedures, scheduling, and tuning
➔   Managing users, groups, and authentication
➔   Perform server management with the Cockpit web management utility
➔   Troubleshoot and obtain support
➔   Run containers

Who should do RHCSA Rapid Track Course (v8.2)?
There are multiple profiles and work port-folios that may enhance as well as upskill one's skillset and knowledge factors by doing this magnificent RHCSA Rapid Track Course with Exam. For instance,
➔   Current Linux System Administrators
➔   Other infosec personnel want to switch into RH199 Training or are willing to learn an extra skillset
➔   Window System Administrators
➔   Other Varied System Administrators
All the above-mentioned profiles can be responsible to perform the following activities after undergoing the highly dedicated Red Hat Certified RHCSA Rapid Track Course:
➔   Configuring, installing, upgrading, and keeping Linux systems utilizing fixed protocols and processes.
➔   Offering operational support.
➔   Controlling systems for supervising system performance and availability.
➔   Drafting and deploying scripts for work automation and system administration.
RHCSA Rapid Track Course (v8.2) Highlights
➔   Access systems and get help
➔   Navigate file systems
➔   Manage local users and groups
➔   Control access to files
➔   Manage SELinux security
➔   Tune system performance
➔   Install and update software packages
➔   Manage basic storage
➔   Control services and the boot process
➔   Manage networking
➔   Analyze and store logs
➔   Implement advanced storage features
➔   Schedule future tasks
➔   Access network-attached storage
➔   Manage network security
➔   Running Containers
Key Requirements for RHCSA Rapid Track Course:
➔   Basic Understanding of Linux Essentials
➔   Fundamentals of Linux Computing Concepts
➔   Basic knowledge of RHEL Methods
➔   Significant information of System Administration Tasks
➔   Substantial Field Experience working with Linux OS as System Administrator
➔   Certificate and Training of Red Hat System Administration (RH124) {If you are new to Linux Administration}
Content for Learn RHCSA Rapid Track Course(RH199) in Delhi
Module 1 : Introduction
Module 2 : Access Systems and Obtaining Support
Module 3 : Manage Files from the Command Line
Module 4 : Manage Local Users and Groups
Module 5 : Control Access to Files
Module 6 : Manage SELinux Security
Module 7 : Tune System Performance
Module 8 : Schedule Future Tasks
Module 9 : Install and Update Software Packages
Module 10 : Manage Basic Storage
Module 11 : Manage Storage Stack
Module 12 : Control Services and Boot Process
Module 13 : Analyze and Store Logs
Module 14 : Manage Networking
Module 15 : Access Network-Attached Storage
Module 16 : Manage Network Security
Module 17 : Run Containers
Module 18 : Comprehensive Review
Course Duration
Course Duration: 60 Hours
Course Level: Intermediate
Include: Training Certificate
Language: English, Hindi
Course Delivery: Classroom Training
Frequently Asked Question