End Point Security Course in Delhi
Individuals who possess a sincere interest in the field of Endpoint Security Course have the option to enroll in this course and receive instruction from a highly competent and knowledgeable instructor.  This instructor has the ability to effectively guide and mentor students, facilitating their transformation from a novice to a proficient information security professional.  The Bytecode Cyber Security Institute offers a comprehensive curriculum for the Best Endpoint Security Certification.  This certification program is conducted at our advanced facilities located at Bytecode Security, a subsidiary of Craw Cyber Security Institution in Delhi NCR.  Our institution has been operating successfully for over 10 years.
What is Endpoint Security in Cyber Security?
Endpoint security in the field of cyber security pertains to safeguarding the various devices that are interconnected within a network, including but not limited to PCs, laptops, smartphones, and Internet of Things (IoT) devices.  Furthermore, these devices are commonly denoted as "endpoints" due to their role as the termination point of a network connection.
Furthermore, Endpoint Security encompasses the utilization of a comprehensive set of software, hardware, and established methodologies to safeguard these devices against various cyber threats, including but not limited to malware, viruses, and unauthorized intrusion attempts.  Several commonly used measures for endpoint security include the following:
Firewall: A firewall is a network security mechanism that oversees and regulates the flow of network traffic, both inbound and outbound, in accordance with pre-established security protocols.
Antivirus Software: Antivirus software is specifically engineered to identify and eliminate malware and various forms of malicious software from a computing device.
Endpoint Protection Software: Endpoint protection software is specifically developed to offer a comprehensive security solution for endpoint devices, encompassing antivirus capabilities, firewall functionality, intrusion detection systems, and intrusion prevention systems.
Patch Management: Patch management refers to the systematic procedure of recognizing, evaluating, and implementing software updates with the purpose of rectifying vulnerabilities and mitigating the risk of potential exploits.
Device Controls: Device controls are implemented in order to impose limitations on the accessibility of devices, apps, and network resources, guaranteeing that only individuals with proper authorization are able to get entry to them.
Security Awareness Training: Security awareness training is a valuable tool that facilitates the comprehension of potential threats and optimal strategies for safeguarding personal devices among end-users.
In a nutshell, Endpoint Security holds significant importance within the realm of cyber security due to the fact that Internet of Things (IoT) devices frequently serve as the initial point of entry for cyber attacks while also serving as potential vehicles for the dissemination of malware and other forms of threats across a network.  The implementation of a comprehensive endpoint security strategy can effectively limit these risks and provide protection against cyber-attacks.
Learn Endpoint Security Course in Delhi
In order to gain a comprehensive understanding of the most reputable endpoint security certification in India for the year 2023, an individual who possesses a strong comprehension and a genuine enthusiasm for the realm of information security and ethical hacking can actively pursue the opportunity to receive endpoint security training in Delhi.  This training is facilitated by highly proficient and seasoned trainers and mentors.  In addition to the extensive expertise possessed by our training personnel, who collectively possess over 8 years of experience in instructing endpoint security courses, our organization has achieved a noteworthy standard in delivering exceptional endpoint security certifications tailored for individuals with limited prior knowledge in the vicinity of New Delhi and the surrounding National Capital Region (NCR).
Bytecode Security provides the most comprehensive endpoint security education in all locations of Delhi NCR.  This course aims to augment students' knowledge and skills, enabling them to thrive in a competitive professional landscape and secure employment in esteemed IT businesses.
Take Online Classes for Endpoint Security Course
There exists a considerable number of individuals within society who lack sufficient time to partake in the endpoint security course offered by a reputable university situated in a prominent urban center.  Bytecode Security has developed an online course in endpoint security with a comprehensive curriculum that encompasses essential security principles, aiming to provide students with the most effective certification in this field.
We are a distinguished institution in Delhi that specializes in endpoint security training.  Our curriculum encompasses comprehensive instruction on core security principles and topics related to endpoint protection training.  This course provides comprehensive instruction on endpoint security planning, enabling diligent learners to effectively fulfill a range of professional duties and obligations.
Eligibility for Endpoint Security Course in Delhi
If you are interested in identifying the most reputable institution offering an endpoint security course in Delhi, Bytecode Security is a recommended option.  Bytecode Security is known for delivering high-quality certifications in endpoint security to individuals who are new to the field.  The institution boasts a team of highly qualified trainers who possess extensive expertise and are driven to provide exceptional instruction.  Additionally, Bytecode Security is equipped with advanced facilities located in Saket and Laxmi Nagar, which are situated in the Delhi National Capital Region (NCR).
Furthermore, the provision of this endpoint security course in Delhi requires the submission of a 12th-grade certificate issued by a recognized educational board, regardless of its origin.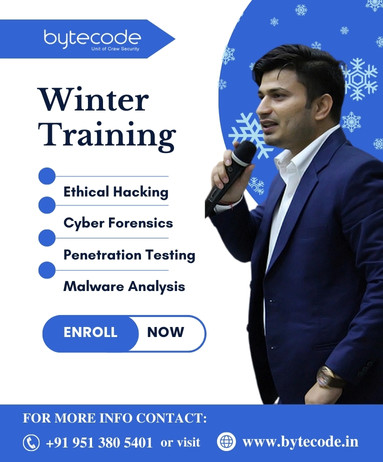 Benefits of End Point Security Course?
Home and business gadgets – like cell phones, tablets, workstations, and work areas – are helpless against various dangers from cybercriminals. While the client may empower a dangerous entertainer admittance to their gadget by succumbing to a phishing assault or opening a dubious connection, having an endpoint security arrangement can keep malware from spreading through the machine.
Learn From Home with Online Training
Bytecode Cyber Security Provide 24x7 Classes
Students can attend classes from their homes. It takes less time to attend an online class. At the same time, various groups can attend online classes with bytecode Cyber Security From home.
End Point Security Content
Module 01: Implementing Internet Security Anti Virus
Module 02: Two-Factor Authentication Implementation
Module 03: Mobile Device Management For Industry
Module 04: Data Loss Prevention Overview & Implementation
Module 05: Security Information and Event Management (SIEM)
Module 06: APT- Attack
Module 07: MITRE Framework
Module 08: EDR
Module 09: MDR
Module 10: Next-Generation Firewall
Module 11: Unified Threat Management
Module 12: Physical Security
Module 13: ISO 27001 Lead Auditor Guidelines
Course Duration
Course Duration: 40 Hours
Course Level: Intermediate
Include: Training Certificate
Language: English, Hindi
Course Delivery: Classroom Training
Key Specializations to the Endpoint Security Course
Implementing Internet Security Anti Virus.
Mobile Device Management For Industry
Security Information and Event Management
Two-Factor Authentication Implementation
Data Loss Prevention Overview & Implementation
Unified Threat Management
Next-Generation Firewall
ISO 27001 Lead Auditor Guidelines
Our Students Placed in Companies
Best Endpoint Security Certification Course Reviews
Frequently Asked Questions
About Endpoint Security Course