CompTIA A Plus Training and Certification
Classroom Training and Online Training Available
Held by over 1 million IT professionals worldwide, CompTIA A+ is the most essential IT certification for establishing an IT career. If you're new to the IT industry, this will help you put your best foot forward. And if you're already an IT professional, the CompTIA A+ certification validates your skills and can boost your career.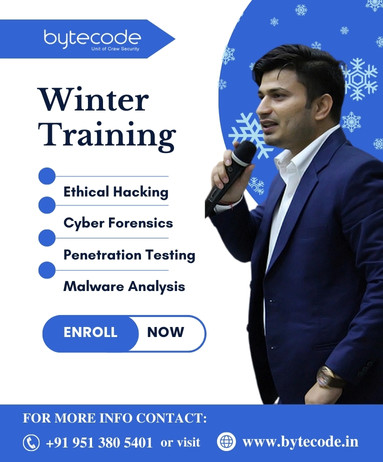 About the CompTia A Plus Training
CompTIA A+ 220-901 covers PC hardware and peripherals, mobile device hardware, networking, and troubleshooting hardware and network connectivity issues. CompTIA A+ 220-902 covers installing and configuring operating systems including Windows, iOS, Android, Apple OS X, and Linux. It also addresses security, the fundamentals of cloud computing, and operational procedures.
Instructor-led training provides a comfortable teaching environment with instructors that are familiar with the certification process and can help you master your certification exam. There's a wealth of training materials available that match your learning needs and learning style. Whether you are studying on your own, or in a classroom environment, we recommend CompTIA Authorized Quality Curriculum (CAQC) training materials that will help you get ready for your certification exam and pass the test.
Learn From Home with Online Training
Bytecode Cyber Security Provide 24x7 Classes
Students can attend classes from their homes. It takes less time to attend an online class. At the same time, various groups can attend online classes with bytecode Cyber Security From home.
Eligibility Criteria
Any graduate, undergraduate or post-graduate student having a passion for information security can undergo our Cyber Security course in Delhi and become a certified ethical hacker. If you are willing to know more about the course or admission eligibility, just give us a call and we will suggest the best batch option for you.
Our Curriculum
Module 01: Configure and apply BIOS Settings
Module 02: Differentiate Between Motherboards
Module 03: Compare and Contrast RAM
Module 04: Install and Configure Expansion Cards
Module 05: Install and Configure Storage Devices
Module 06: Differentiate CPU Types
Module 07: Compare Connection Interfaces
Module 08: Install Appropriate Power Supply
Module 09: Custom Configurations
Module 10: Evaluate Display Devices
Module 11 : Identify Connectors & Cables
Module 12: Install Peripheral Devices
Module 13: Network Cables and Connectors
Module 14: Characteristics or Connectors / Cables
Module 15: TCP/IP
Module 16: Common TCP and UDP
Module 17: Wireless Standards / Encryption
Module 18: Install and Configure a SOHO Router
Module 19: Internet Connection Types / Features
Module 20: Identify Network Types
Module 21: Compare Network Devices
Module 22: Use Appropriate Networking Tools
Module 23: Laptop Hardware and Components
Module 24: Compare Laptop Display Types
Module 25: Compare Laptop Features
Module 26: Printer Imaging Processes
Module 27: Install / Configure Printers
Module 28: Printer Maintenance
Module 29: Appropriate Safety Procedures
Module 30: Environmental Impacts / Controls
Module 31: Communication & Professionalism
Module 32: Dealing with Prohibited Content
Course Duration
Course Duration: 60 Hours
Course Level: Intermediate
Include: Training Certificate
Language: English, Hindi
Course Delivery: Classroom Training