One Year Master Diploma in Information Security
Advanced Diploma in Information Security Specialization by Bytecode Cyber Security is a new 1-year diploma course with a 100% job guarantee. We have especially designed this course for students who want to excel in a career in cybersecurity. In this, we tend to cover the 12 most industry demanded focussed areas considering international industry-oriented courses making an exclusive pack of one combo. The exposure to practical learning is very high. You will get a huge amount of time to practice using Live projects and real-time simulations to make you an expert in Cybersecurity. Cybersecurity has become one of the most required fields in IT and with this, the sector is booming with jobs. We have been in the industry for a long time and have experienced faculty who impart theoretical knowledge with practical hands-on experience. Our Expert diploma course in cybersecurity will give you a chance to make a great career in the field of cybersecurity.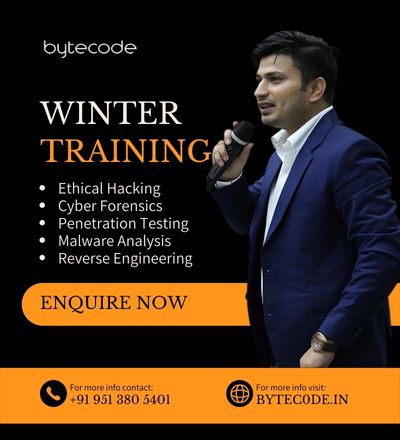 Who this Information Security Diploma Training course is for :
Security Enthusiasts can pursue mobile application security courses.
Any IT professional who wants to learn mobile security.
Employees and college students can pursue this security course.
Mobile Application Developers who want to understand mobile application security
Security Administrators and IT Managers.
Learn From Home with Online Training
Bytecode Cyber Security Provide 24x7 Classes
Students can attend classes from their homes. It takes less time to attend an online class. At the same time, various groups can attend online classes with bytecode Cyber Security From home.
1 Year Master Diploma in Cyber Security Course Syllabus
This bundle takes these popular courses and conveniently packages them at a single price with huge savings. This Bundle includes the following courses which are given below kindly check these courses :
Course Duration
Course Duration: 720 Hours
Course Level: Intermediate
Include: Training Certificate
Language: English, Hindi
Course Delivery: Classroom Training

Our Students Placed in Companies
Our Google Reviews
Bytecode Cyber Security Placement Opportunity
| Company Name | Contact Person |  Email | Phone | Skills |
| --- | --- | --- | --- | --- |
| Vvdn Technologies Pvt Ltd | Shyam Sundar | [email protected] | +91-9810566056 | Security Engineer |
| RTS Manpower | Ritika Bhatia | [email protected] | +91-7678397538 | Cyber Forensics and Security |
| Hyrefox | Khushboo Ranjan | [email protected] | +91-9602004400 | Threat Hunter |
| Tech Mahindra | Akash Shah | [email protected] | +91-9971996510 | VAPT |
| British Telecom | Binit Rai | [email protected] | +91-7595920106 | Cyber Security |
| Three D Integrated Solutions Ltd. | uma verma | [email protected] | +91-8826333224 | Security Testing |
|  LINC Education Services | avani raghuvansi | [email protected] | +91- 7045577921 | Cyber Security |
| Velocis | jasminder kohli | [email protected] | +91- 9350580972 | Cisco Routing and Switching |
| Randstad India Private Limited | Karunakar | [email protected] | +91-7993654104 | Cyber Security/Information Security |
| Deep Logictech India Pvt Ltd | Nidhi | [email protected] | +011-45453628 | Ethical Hacker |
| Fastandfurious Consulting | Niharika Sharma | [email protected] | +91-9990291119 | Networking |
| Parahit Technologies Ltd. | Pooja Thakur | [email protected] | +91-9149292929 | Technical Support Engineer(CCNA) |
| Trigent Software Limited | Hafsaa Sait | [email protected] | +91-9886970024 | L1 Technical Support Engineer |
| Shriv ComMedia Solutions Pvt. Ltd. | Aarti Singh | [email protected] | +91-9910967277 | Software Developer |
| HCL Technology | Anamika | [email protected] | +91 9811722023 | Network Administration, Security |
| BreachLock | BreachLock | [email protected] | +1 917-779-0009 | Penetration Tester with Python Development |
| Right Step Consulting | Right Step Consulting | [email protected] | +0120-429 1013 | Network Administrator |
| ACE IT Solutions | ACE IT Solutions | [email protected] | +646-558-5575 | Junior Cyber Security Analyst |
| Limpidstone Technology Pvt. Ltd | Manisha Saini | [email protected] | +91 7840060051 | CEH |
| Indian Institute of Management and Development | IMMD Placemet | [email protected] | +020 – 6500 1155 | L 1 Engineer |
| Indian Institute of Management and Development | IMMD Placemet | [email protected] | +91 9354061269 | Network Administrator |
| Indian Institute of Management and Development | IMMD Placemet | [email protected] | +91 9354061269 | L 2 Engineer |
| Indian Institute of Management and Development | IMMD Placemet | [email protected] | +91 9354061269 | Accounts Executive |
| Rahinfotech.com | Sachin | [email protected] | +91 9971364299 | Cyber Security Engineer |
| Eon Placements | Eon Placement | [email protected] | +91 9873023020 | CCNA, CCNP |
| Three D Integrated Solutions Ltd | uma verma | [email protected] | +91 874507070 | Certified Ethical Hacker (CEH v11) |
| Three D Integrated Solutions Ltd | Uma verma | [email protected] | +91 874507070 | SOCC Engineer |
| IARM Information Security Pvt Ltd | Sridhar | [email protected] | +91 9361906659 | C|EH v11 |
| IARM Information Security Pvt Ltd | Sridhar | [email protected] | +91 9361906659 | SOC Analyst |
| LINC Education Services | Avani Raghuvansi | [email protected] | +91 7045577921 | Cyber Security |
| Mekdam Technical Services | Abdul Saiyad Khan | [email protected] | +91 9908403117 | Scada Security |