AWS Security Course in Delhi
The AWS Security Certification Training offered by Bytecode Cyber Security Institute in Delhi provides comprehensive instruction on Cloud Computing foundations and ideas.  This training is suitable for cloud associates seeking to enhance their practical skills in the field.  The training is available at both the Saket and Laxmi Nagar campuses.  In addition, Bytecode Security offers an esteemed AWS security fundamentals course in India, delivered by highly knowledgeable and experienced faculty members with over a decade of expertise. This course aims to provide significant instruction to our students.
This AWS security certification course encompasses a comprehensive exploration of essential elements necessary for achieving various organizational objectives in real-world professional settings.
What is AWS Security?
AWS Security encompasses the various techniques and protocols implemented by Amazon Web Services (AWS) to safeguard the cloud infrastructure, data, and applications hosted on its platform.  This encompasses a range of security measures, including those pertaining to physical infrastructure, operational procedures, and software systems, all of which are implemented to safeguard against unauthorized access, data loss, and various other potential security risks.
Furthermore, Amazon Web Services (AWS) offers a variety of security functionalities.  These include the provision of secure access to instances, the implementation of network isolation through Amazon Virtual Private Cloud (VPC), the encryption of data both during transit and while at rest, and the utilization of identity and access management (IAM) to regulate access to AWS resources.
In addition, it is incumbent upon AWS customers to ensure the security of their own applications and data that are hosted on the platform, by adhering to established guidelines for security and compliance.  Additionally, the system encompasses the process of creating security settings, implementing security upgrades, and conducting routine surveillance to detect potential security risks.
What will you learn in AWS Security Certification Training?
During the comprehensive AWS Security Certification Training in Delhi, participants will engage in a genuine and true learning experience.  This training program covers essential AWS Security Fundamentals Courses, enabling learners to grasp the fundamental ideas important for their professional development in the field of cloud computing.  Individuals who express a willingness to acquire knowledge in the AWS security certification training course are expected to thoroughly engage with all the mandatory modules outlined in the associated curriculum.
The AWS Security Certification Course will be conducted by trainers who possess extensive qualifications and expertise.  The course will be delivered by a diverse and highly skilled training professional with over a decade of training experience.
To acquire comprehensive expertise in cloud security systems, individuals have the option to enroll in either the authentic AWS security specialist course or the AWS security specialty course.  This comprehensive AWS security certification training provides students with a comprehensive understanding of the latest course material, encompassing essential information that enables cloud associate professionals to advance to higher positions within their firms.
Learn Online AWS Security Certification Training
We fully comprehend the concerns expressed by prospective students aspiring to pursue a successful career in the esteemed domain of cloud security.   One can acquire a comprehensive understanding of the essential knowledge quotient embedded within the curriculum of the AWS security certification training by successfully undertaking the online course dedicated to AWS security training.
Best Institute for AWS Security Certification in Delhi
The legitimate curriculum of the AWS Security Course aims to equip dedicated learners with critical knowledge and skills that can significantly improve their prospects of working as an AWS associate professional.  By acquiring this expertise, individuals can better their job profile within the hierarchical structure of an IT organization.
The AWS security certification training encompasses a range of essential elements, including an examination of security practices and security features associated with major AWS services.  These services encompass several domains, such as computing, storage, networking, and database services.  This inquiry pertains to gaining knowledge about additional areas of expertise in AWS security certification training services and tools for the purposes of automation, continuous monitoring through logging, and the ability to effectively address security incidents.
In order to pursue cloud security training, individuals may choose to enroll in Bytecode Security, a highly regarded institute offering comprehensive programs in India as well as other prominent countries globally.  To obtain further information, please contact us at +91-9513805401.
Know Your Eligibility Criteria for AWS Certification Training
The AWS certification training does not have any explicitly defined eligibility criteria.  However, it is advisable to possess prior experience in AWS or cloud computing in order to enhance the chances of successfully obtaining certification.
AWS offers suggested knowledge and expertise to assist individuals in their preparation for the certification tests associated with various AWS Associate certifications.  The AWS Certified Solutions Architect — Associate credential suggests that individuals possess at least one year of practical experience working with AWS services, in addition to a foundational comprehension of networking, storage, and security concepts.
Individuals seeking AWS Security Certification Training should familiarize themselves with the eligibility requirements, which include holding a valid AWS Associate Certification and having a minimum of four to five years of professional experience as a cloud associate.
Furthermore, it is crucial to thoroughly examine the certification prerequisites and required certifications prior to commencing the training process. This can be done by referring to the official website of AWS or by contacting our knowledgeable educational counselors at +91-9513805401 for further guidance.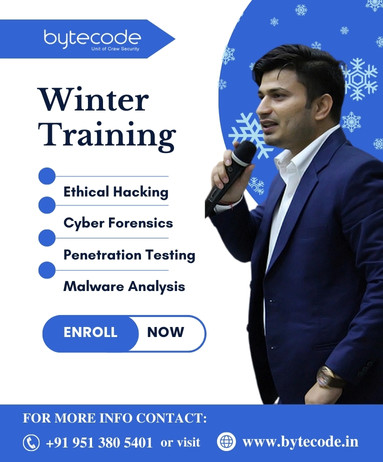 Our trainers are industry experts and subject specialists who have mastered running applications providing the best Amazon Web Services AWS training to the students. We have received various prestigious awards from our recognized IT partners and organizations.
Learn From Home with Online Training
Bytecode Cyber Security Provide 24x7 Classes
Students can attend classes from their homes. It takes less time to attend an online class. At the same time, various groups can attend online classes with bytecode Cyber Security From home.
AWS Security Course Content
Module 01: Given an AWS Abuse Notice, Evaluate a Suspected
Compromised Instance or Exposed Access Key
Module 02: Verify that the Incident Response plan includes relevant AWS services
Module 03: Evaluate the Configuration of Automated Alerting and Execute
Possible Remediation of SecurityRelated Incidents and Emerging Issues
Module 04: Design and implement security monitoring and alerting
Module 05: Troubleshoot security monitoring and alerting
Module 06: Design and Implement a Logging Solution
Module 07: Design Edge Security on AWS
Module 08: Troubleshoot Logging Solutions
Module 09: Design and implement a secure network infrastructure
Module 10: Troubleshoot a secure network infrastructure
Module 11: Design and implement host-based security
Module 12: Design and Implement a Scalable Authorization and
Authentication System to Access AWS Resources
Module 13: Troubleshoot an Authorization and Authentication System to Access AWS Resources
Module 14: Design and implement key management and use
Module 15: Troubleshoot key management
Module 16: Design and implement a data encryption solution for data at rest and data in transit
Course Duration
Course Duration: 40 Hours
Course Level: Intermediate
Include: Training Certificate
Language: English, Hindi
Course Delivery: Classroom Training

Our Students Placed in Companies
Our Google Reviews
Frequently Asked Questions
About AWS Security Course