About bytecode Cyber Security
Bytecode is an IT certifications and Training company, an authorized/accredited DIS (Data and Internet Security) Consultants training center. Our headquarter is wholly based in New Delhi (INDIA). We started our small IT training and certifications-related operations on 1st February 2008 with a virtual lab environment and online training. In just a few years, Bytecode has grown with many new students, clients, and partners. We have successfully trained and certified more than 15000 (fifteen thousand) students worldwide.
Upcoming Cyber Security Training Batches
Ethcial Hacking and Cyber Security Courses
Bytecode Cyber Security is specialized in the field of providing quality job-oriented training to students. We ensure that our students get placed as soon as they complete their training. Bytecode Security also understands the fact that it is not possible for everyone to attend offline classes, so we provide online classes also.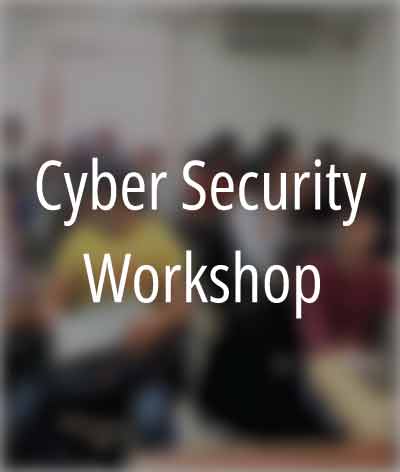 Workshop with Bytecode Cyber Security
Cyber Security Workshops
Craw Security offers a league of knowledgeable workshops at numerous colleges and universities where numerous employers agree that you require a proper certification to validate your skills. With the essence of our prominent workshops, a learner can nicely have genuine and sincere knowledge related to the latest tools and updated techniques of the most revised information security courses. A learner will have numerous certain benefits from taking the authentic workshops from Craw Security such as the following:
Career Counselling for several technical courses as per the students' choice.

Honing the present skills of the students.

Students get elaborated on the potential sectors where they can go and enjoy the career as per their interest.
See What Students Say About Us
FREQUENTLY ASKED QUESTIONS
FREQUENTLY ASKED QUESTIONS
Which diploma is best for cyber security?
The Best Diploma for Cyber Security is the 1 Year Diploma Course in Cyber Security Training in Delhi offered by Bytecode Security for cybersecurity students. This course has introduced several concepts of cyber security which needed to protect organizational systems.
Several aspirants have already been applying for this certification course to get the best career opportunity. What are you waiting for?
Can I get job after diploma in cyber security?
Of course, after completing the 1 Year Diploma Course in Cyber Security Training in Delhi, you can apply for various job profiles. As Cyber World is enlarging with time, cyber attackers are trying to attack more n more people in the industry to get the monetary benefits from them.
The certified cyber security professionals will be able to fight against them. For that, if you want to become a professional ones, you can apply for the 1 Year Diploma Course in Cyber Security Training in Delhi. Then you can get certified and become a skilled cyber security expert. Ask Bytecode Security for this Diploma Certification.
Is diploma in cyber security worth it?
Definitely, if anyone has the diploma in cyber security, that person can apply for various career lines. That's because, in today's era Cyber Security Professionals are in a great demand. Moreover, the diploma in cyber security can offer you with the skillset of techniques and tools needed to secure an corporation from cyber attacks.
Plus, if you have been certified with this certification, then you can say it as your valid certificate which is applicable and approved in several MNCs for a professional post. Join the the 1 Year Diploma Course in Cyber Security Training in Delhi offered by Bytecode Security.
What is diploma in cyber security?
A piece of collective step-by-step information on cyber security in the form of various courses that fall under this category of cyber security is known as Diploma in Cyber Security. In this regard, Bytecode Security offers a 1 Year Diploma in Cyber Security Courses under highly skilled and motivated training professionals. Call now at +91-9513805401 for more information.
How do I start a career in cybersecurity?
If you wish to start an outstanding career in cybersecurity, then you give it a kick start with Bytecode Security's highlighted training program under well-qualified and experienced training mentors. Call at +91-9513805401 to know more about the same.
What qualifications do I need for cyber security?
There is nothing you need to be aware of enrolling in the 1 Year Diploma in Cyber Security Course by Bytecode Security. A person hailing from a Non-IT background can also opt for this primetime Diploma in Cyber Security Course facilitated by highly trained mentors and excelled training faculties in Bytecode Security.
What is the best course for AWS developer associate?
If you want to be the best AWS Developer Associate, you can join the AWS Associate Course in Delhi offered by Bytecode Security. This course is prepared under the professional guidance of experienced AWS Associates.
After completion of this course, you'll get the government approved certification which is valid at every MNC in India and some are from international smart cities.
Can I learn AWS in 3 months?
Definitely! However, that depends on your learning speed and concepts clearing speed. For better learning experience you need professionals to teach you how the things work in cloud computing and services.
Now, you can get in contact with Bytecode Security that is offering a AWS Associate Course in Delhi for the aspirants of Amazon Web Services for a long time. Whole India is developing and enhancing youth's skills to improve their future employees. For more, Ask Bytecode Security!
What AWS level requires 6 months?
AWS is a dynamic concepts involving various course of each 40 hours of timing. However, if you choose a trio of them at once it'll be completing in 6 months of time space from Bytecode Security. For more information, you can contact Bytecode Security. Contact, Now!
Does cyber security is a good career?
Yes, cyber security is a good career choice. It is a rapidly growing field with great job opportunities and a high salary potential. In addition, cybersecurity professionals are in high demand as more and more companies and organizations become dependent on technology and the internet. With the right qualifications, cyber security professionals can find rewarding jobs in both the public and private sectors.
Is cyber security high paying?
Yes, cyber security is a high-paying field. According to PayScale, the average salary for a cyber security specialist is ₹7,17,753 per year in India. Salaries for experienced cyber security professionals can be much higher than this, with some earning six figures or more.
What is the best career path for cyber security?
The best career path for cyber security depends on what your specific interests and skills are. Some popular paths include network security engineering, penetration testing, cyber forensics investigation, security operations, security analytics, and software security engineering. You may also choose to specialize in a specific area, such as cloud security, mobile security, or IoT security.