About 6 Months Diploma in Information Security
Anybody who wants an Introduction to Diploma in Information Security Course can join the 6 Months Diploma in Information Security Course in Delhi, which Bytecode offers. A diploma in Information Security is customized to offer several modules involving information security concepts that lead to professionals solving online hacking-related issues. Several students are searching for an easier way to study and research cybersecurity-related cases, tools, and techniques that can help prepare better security measures for organizations in need. Keep reading!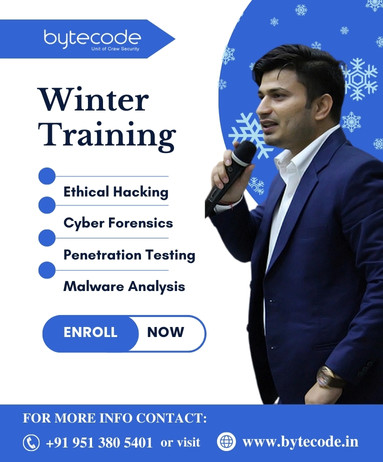 What will you learn in 6 Months Diploma in Information Security Course in Delhi?
Learn the AWS Solution Architect Associate Course via our world-class facilities and amenities with the leading as well as experienced mentors and faculty members that will certainly boost your confidence factor by providing you with a curriculum duly designed by the think-tanks of the genre after a deep analysis and thorough research for years so that we can create more expert individuals that will be the proven workforce to function in Cloud-based Organizations. The genuine and expert curriculum of the Online AWS Associate Course by Craw Cyber Security Institution will offer the best cloud practices and designs for helping students think about the entire process of the AWS Certification, which includes numerous case studies to give them hands-on exposure to real-time problems.
What will you learn in AWS Associate Course in Delhi?
Information Security Certification Training Courses in Delhi are offered as Cyber Security Awareness Training, as we all know that online crime is on the hype right now. No one knows when they could become the victim of such crimes. Also, online security measures of companies lack proper management and updates, that's why the breaching of data is increasing. Adversaries become wild while trying to intrusion on the victim's networks and system. After getting loopholes in the systems and networks, adversaries exploit the weak points. After exploitation, it becomes easy to get access to the networks and systems, and driving data out of databases becomes more agile. That data is enough for a hacker to ask for ransom money to make easy money. To protect the data from online attacks, organizations get two ways – 1) Try moderate solutions offered on YouTube, 2) Hire Certified Professionals. For more info, read further!
Diploma in Cyber Security After 12th | Information Security Diploma
In Class 12th, we got so many options to choose from for a better career path. But after we get contact with someone who is precisely on our stage, could deliver only the content/ idea that we already had. However, how many of you think about cybercrime, cyberattack, or something related to online theft or fraud? Maybe some of you. But after 2020, everyone got to know how much important online marketing and businesses are. Just because of that, we all started creating online websites, apps, accounts, groups, and everything that helped us in creating our online existence more attention-catching. But we forgot that not only appreciators but also critics are there looking at our growth. But what if you could get introduced to cybersecurity concepts under the guidance of professionals? That would be great. Right? Want to make professional attempts? Keep on!
Diploma in Cyber Security After 10th | Diploma in Cyber Security Online
Students looking for an Information security diploma in Delhi as a career opportunity while only pursuing their 10th are trying a great attempt they made. For such outstanding skills, you need an Information Security Course that can offer you knowledge about the techniques and tools used in information security to protect networks and systems from unknown access. Unknown sources that we search for pirated content, we think it's just a small matter of time. But it would lead to several online difficulties that could cross paths with online frauds and malware distribution over our system via fabricated documents that could imitate popular online apps/ software or several reliable platforms. What do you think is the best Information Security Certification Training Course from several Best Information Security Courses that can help you out? The best of all the courses is a 6 months Diploma in Information Security Course in Delhi. This course briefly introduces online security issues, their solution, tools, and services. Want to try enhancing your skills in protecting your devices from unknown sources? Keep Reading!
Diploma in Cyber Security Online
There are not many institutes offering online courses, just because online courses are hard to deliver because of a shortage of time placements. But with Bytecode, it became easy to get online sessions. Bytecode offers a Diploma in Cyber Security Online for those students who want to learn cyber security skills to offer the best security services to several organizations in the increasing competition. What are you waiting for? Get in contact with Bytecode now!
Who should join this splendid 6 Months Diploma in Information Security Course in Delhi?
There are no fixed rules when joining this splendid 6 Months Diploma in Information Security Course in Delhi. For that, if you want the best trainers to train you to become a professional, you can rely on Bytecode. That's because it offers this course to every interested person that must have some knowledge of IT field, Cyber Security, and Computer Science that every student who passed 10th standard could learn with ease. Another institute may ask for a degree, diploma, or other formalities from you. If you want to start your career in Cybersecurity, contact us!
Key Highlights of the Best 6 Months Diploma in Information Security Course
Introduction to Basics of Cyber Security
In-depth Network Scanning
Hacking Web servers Server Rooting, Hacking Wireless Network, Penetration Testing
Internet of Things (IoT) Hacking, Cloud Security, and many more.
It will help you in determining the weakness in hardware and application
You will learn about how to ensure control over information security in the company
PURSUIT / Proxy Interception
How to inject SQL injection
Security Administrators and IT Managers.
Concept and Live Project Based Training.
Tracking and Investigating Various Email Crimes.
Recovery of Deleted Files and Folders.
Various popular techniques like Acquiring images, Cracking passwords, Encryption, Stenography, etc.
Fundamentals of Networking Basic Course and Defence Techniques
Network Security Threats and Vulnerabilities
Network Security Threats and Vulnerabilities
Vulnerabilities in Web Application and how to remove them
Any IT professional who wants to learn mobile security.
Learn From Home with Online Training
Bytecode Cyber Security Provide 24x7 Classes
Students can attend classes from their homes. It takes less time to attend an online class. At the same time, various groups can attend online classes with bytecode Cyber Security From home.
Diploma in Information Security Syllabus
With a 6 Months Diploma in Information Security Course in Delhi, you can see a rise in job opportunities. 7 modules in this course to offer a brief explanation of information security as follows:
Level 01: Ethical Hacking
Level 02: Advanced Penetration Testing
Level 03: Cyber Forensics Investigation
Level 04: Basic Networking
Level 05: Web Application Security
Level 06: Mobile Application Security
Level 07: Python Programming
Course Duration
Course Duration: 280 Hours
Course Level: Intermediate
Include: Training & Certificate
Language: English, Hindi
Course Delivery: Classroom Training
Our Students Placed in Companies
Our Google Reviews
Frequently Asked Questions