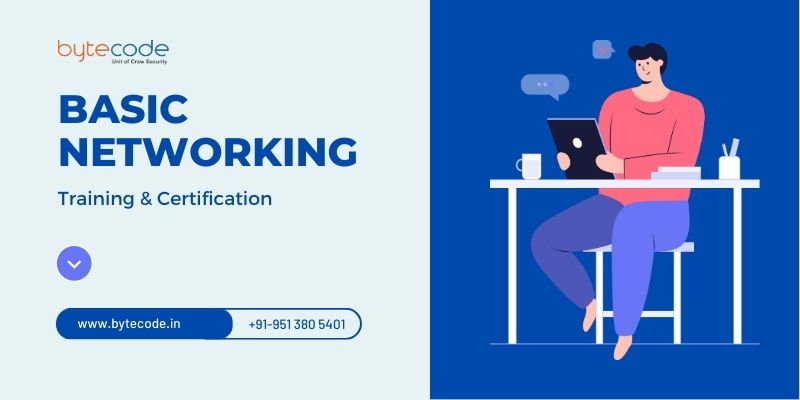 Basic Networking Course in Delhi
Networking is the practice of connecting computers and devices together to share resources and information.  There are many different types of networks, including local area networks (LANs), wide area networks (WANs), and the internet.  In addition, basic networking concepts include IP addresses, which are used to identify devices on a network, and protocols, which are used to govern the communication between devices.  Additionally, networking devices such as routers and switches are used to connect and manage network traffic.
In order to combat the rising cyberattacks on various networking interfaces, we genuinely require a prime time basic networking course in Delhi to deliver the world's best networking experience with all the fundamentals of networking on track.  In this blog post, we tried our level best to deliver the most of networking basics, providing networking courses with certification.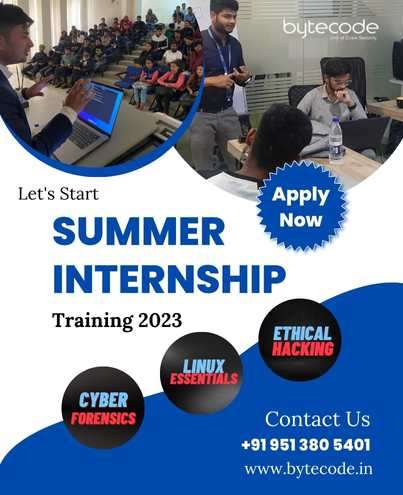 What will you learn in Best Networking Course for Beginners?
The best networking course for beginners would typically cover the many challenges stuff that generally the students face in daily life practices, which include exercising networking concepts.  In this regard, to provide all the learners with the best of the networking fundamentals, we sincerely offer a highly genuine and the best networking course for beginners under the world-class guidance of prominent training instructors having numerous years of authentic experience.
Moreover, in furnishing the students with every minor to major conceptual information of top networking basics courses, Bytecode Security, a renowned networking training institute in India, offers primetime Basic Networking Courses at the state-of-the-art elevations at Saket and Laxmi Nagar institutes in New Delhi.
Learn From Home with Online Training
Bytecode Cyber Security Provide 24x7 Classes
Students can attend classes from their homes. It takes less time to attend an online class. At the same time, various groups can attend online classes with bytecode Cyber Security From home.
Grab Everything with Globally Acclaimed Networking Course Online
As Bytecode Security is into furnishing students with the best of basic networking course fundamentals under the strict supervision of many game-changing trainers offering their splendid mentorship, learners will attain mind-blowing perfection that can sincerely offer them the world's best networking guidance.  In addition, one can also take this proactive basic networking course via an online methodology with our networking course online class conduction.
Moreover, this particular networking course online is facilitated to all working professionals who do not afford to indulge in an offline course with a physical presence.
IN-DEPTH ADVANCED NETWORKING
OUR CURRICULUM
Module 01: Computer Networking
Module 02: Introduction To Networking
Module 03: Ipv4 And Ipv6
Module 04: Subnet Mask, Cidr, And Subnetting
Module 05: VLSM, Wild Card, Summarization
Module 06: OSI Model
Module 07: TCP/IP Model
Module 08: Network Devices, Cabling, Packet Tracer
Module 09: ARP and ICMP
Module 10: Packet Flow
Module 11: Routing – Static And Dynamic
Module 12: Static Routing – Next Hop Ip And Exit Interface
Module 13: Dynamic – RIP
Module 14: EIGRP
Module 15: OSPF
Module 16: Redistribution
Module 17: Remote Services ( Telnet And SSH )
Module 18: DHCP
Module 19: ACL
Module 20: Switching
Module 21: L2 Protocols – CDP, VLAN, STP, DTP, VTP
Module 22: Ether-Channel
Module 23: Port Security
Basic Home Networking Course for Beginners
A highly working basic home networking course for beginners would generally include these key pointers:
Setting up a home network

: This section will cover the basics of setting up a home network, including the different types of home networks (such as wired and wireless) and how to connect devices to the network.

Understanding IP addresses and DHCP

: This section will cover the basics of IP addresses and how DHCP is used to automatically assign IP addresses to devices on a home network.

Router configuration

: This section will cover the basics of configuring a home router, including setting up wireless security and port forwarding for specific applications.

Network troubleshooting

: This section will cover common network troubleshooting techniques and tools, such as ping and traceroute, and how to use them to diagnose and fix network issues.

Cloud Services and Remote Access

: This section will cover the basics of cloud services such as Dropbox and Google Drive and how to access your home network remotely using a VPN or Remote desktop.

Home Automation

: This section will cover the basics of home automation, including connecting devices such as smart lights, thermostats, and security cameras to your home network.

Hands-on experience

: The course would also provide hands-on experience working with real home networking equipment and software such as routers, switches, and various networking protocols.
Moreover, these above-mentioned points can be the key highlights of a basic home networking course for beginners, which are generally included in the basic networking course by Bytecode Security.
Course Duration
Course Duration: 40 Hours
Course Level: Intermediate
Include: Training Certificate
Language: English, Hindi
Course Delivery: Classroom Training
Eligibility Criteria
Any graduate, undergraduate or post-graduate student having a passion for information security can undergo our Cyber Security course in Delhi and become a certified ethical hacker. If you are willing to know more about the course or admission eligibility, just give us a call and we will suggest the best batch option for you.
Our Students Placed in Companies
Our Google Reviews
Our Related Course
Frequently Asked Questions
About The In-Depth Basic Networking Training and Certification Course Program