Linux Essential Training Course in Delhi
The Linux Essential Course certificate is a great way to show employers that you have the foundational skills required for your next job or promotion. Linux Essential Course is an introduction to Linux as an operating system, basic open source concepts, and the Linux command line basics.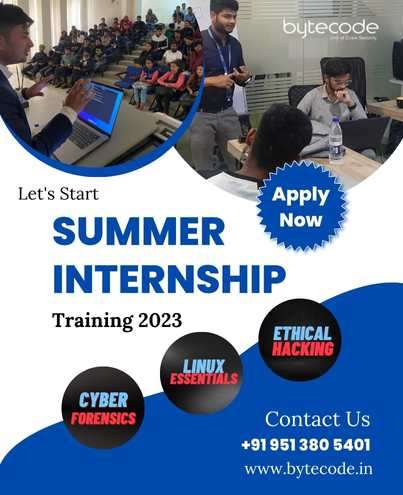 Content developed by experts. Bytecode Security provides an online
Linux Essential course in Delhi
. Some organizations consider RHCSA mandatory; definitely, after earning the certificate, your CV will become more visible to recruiters. Red Hat provides good preparation material; after going through all of the curriculum modules, you will have a sound knowledge of RHEL systems from the basics to the advanced level. If you are already an experienced person in Linux Administration, even then, going through this examination process, you will improve your confidence level and will be able to validate your skills and expertise. Although some other vendors are also providing Linux certifications, e.g., LPIC or CompTIA Linux+, RHCSA is the most reputed and recognized certification.
Learn From Home with Online Training
Bytecode Cyber Security Provide 24x7 Classes
Students can attend classes from their homes. It takes less time to attend an online class. At the same time, various groups can attend online classes with bytecode Cyber Security From home.
Course Modules for Training Course in Delhi
Module 01 : Getting Started with Red Hat Enterprise Linux
Module 02 : Accessing the Command Line
Module 03 : Managing Files from the command Line
Module 04 : Getting Help in Red Hat Enterprise Linux
Module 05 : Creating, Viewing & Editing Test Files
Module 06 : Managing Local Users and Groups
Module 07 : Controlling Access to Files
Module 08 : Monitoring and Managing Linux Process
Module 09 : Controlling Services and Daemons
Module 10 : Configuring and Securing SSH
Module 11 : Analyzing and Storing Logs
Module 12 : Managing Networking
Module 13 : Archiving and Transferring Files
Module 14 : Installing and Updating Software Packages
Module 15 : Accessing Linux File System
Module 16 : Analyzing Servers and Getting Support
Module 17 : Improving Command-line Productivity
Course Duration
Course Duration: 40 Hours
Course Level: Intermediate
Include: Training Certificate
Language: English, Hindi
Course Delivery: Classroom Training

Our Students Placed in Companies
Our Google Reviews
Our Related Course
Frequently Asked Questions
About The Ethical Hacking Training and Certification Course Program