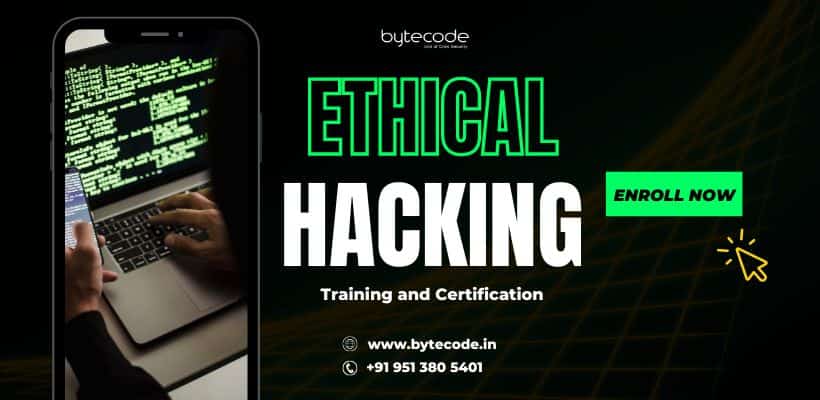 Ethical Hacking Training Course in India | Ethical
Hacking Course Near Me
Since the world is continuously facing many cyber security adversaries that are tirelessly attempting to breach the datasets possessing some crucial and sensitive kinds of information like banking credentials, any such kinds of user ids, and passwords that can harm your monetary transactions as well as personal identities.
In regard to avoid any such losses, many primetime organizations that do keep these sensitive sorts of digital assets on their IT infrastructures of their esteemed clientele hire some ethical hacking professionals that can sincerely secure their IT systems from any illicit hacking and data breach due to some adversary trying to penetrate through their IT environments from any remote location.
In addition to this, many primetime cyber security institutes are facilitating their best-in-class training instructors who have many years of prominent experience in training learners with the world-class ethical hacking course in India under their esteemed guidance. Ahead, Bytecode Security, the best ethical hacking institute in India, offers this international-standard Ethical Hacking Course with full dedication towards developing more refined ethical hacking individuals.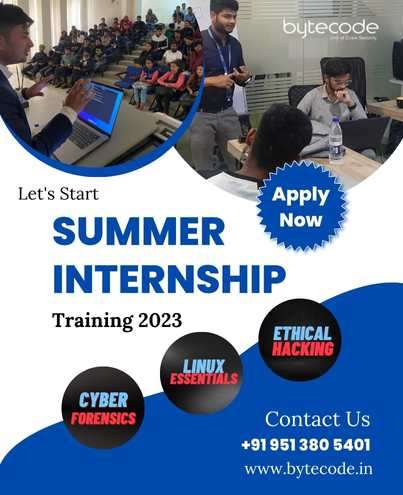 What Will You Learn New in Ethical Hacking Course
With cyber security and its sub-domains' future booming pretty rapidly, Bytecode Security has fastened its seat-belts in developing more refined ethical hacking professionals that can efficiently work as proactive ethical hacking workforce in many reputed organizations all over the world. It is a prime promise from Bytecode Security that when you walk out of Bytecode Security, you will have plentiful skills that can sure-shortly make you a great ethical hacker that can penetrate into a system like a professional black hat hacker and mitigate them like a high-end cyber security analyst.
In this course, students will technically be trained with all the basic fundamentals of cyber security and ethical hacking techniques that can immensely help them in making great ethical hackers that can be fruitful assets for an organization. In addition, this prestigious ethical hacking course in India is highly curated to deliver long-lasting ethical hacking course fundamentals to all interested candidates with uniquely designed infosec certification training.
Learn From Home with Online Training
Bytecode Cyber Security Provide 24x7 Classes
Students can attend classes from their homes. It takes less time to attend an online class. At the same time, various groups can attend online classes with bytecode Cyber Security From home.
Ethical Hacking Institute Near Me: Bytecode Security
As a general rule, this ethical hacking course in India will certainly provide you with an overview of all the basic understanding related to the ethical hacking advanced tools and procedures of the infosec industry.  All in all, some of the main benefits one can grab by learning this ethical hacking course from the house of Bytecode Security — a subsidiary branch of Craw Security.
Viruses and Worms, Trojan and Back door, SQL Injection Manual Testing

Hacking Webservers Server Rooting, Hacking Wireless Network, Penetration Testing: Basics

System Hacking Password Cracking & Bypassing

Internet of Things (IoT) Hacking, Cloud Security, and many more.
Ethical Hacking Course After 12th: Eligibility
This international-standard Ethical Hacker Course is the promising key to success in the world of cyber security as it provides all the resources to understand the necessary ethical hacking course content duly needed to obtain the crucial knowledge regarding the information security to secure the target websites, mobile/ web apps, and other varied IT environments of an enterprise.  Moreover, Bytecode Security is promoting its best training instructors in the service of its learners to develop their hidden ethical hacking skills.
Furthermore, the primary information-based ethical hacking course for beginners is highly intended to deliver maximum benefit to any interested learners who wish to make an outstanding career in the domain of cyber security.
Ethical Hacking Course After 10th
As there are a bulk of cyber security organizations in the present market that offers their ethical hacking courses in India with their own USPs; however, there are very few cyber security institutions in the wild that offers the same ethical hacking course with eligibility criteria of minimum 10th class passed certification.  In the same vein, Bytecode Security at Saket and Laxmi Nagar locations in Delhi NCR offer this globally acknowledged Ethical Hacking Course After 10th.
Ethical Hacking Course Online
The same ethical hacking course in India by Bytecode Security can sincerely be opt in the online format as an ethical hacking course online.  In this regard, this course is highly available in prerecorded video format as well as in the VILT (Virtual Instructor-Led Training) sessions mode to provide maximum comfort to our learners and confirm no hurdles in their learning pathway of ethical hacking course. 
As a result, a learner will certainly grab a valid Ethical Hacking Certification that is duly approved by the Government of India after giving an additional exam which will also be trained by our primetime mentors.
Ethical Hacker Jobs
A vast pool of ethical hacker jobs in cyber security with an abundance of ethical hacking job opportunities in several reputed organizations hailing from any particular niche.  In addition, this ethical hacking course by Bytecode Security will grab you the most high-paying ethical hacker salary in India related to numerous profiles at different hierarchy levels.
As a matter of fact, our alumni network is withdrawing very handsome pay scales all over the country as well as throughout the entire planet at the varied designations of cyber security after learning many primetime cyber security courses from Bytecode Security.
Ethical Hacker Fees
We provide our efficient training instructors who have many years of authentic experience in training their students with comfort and ease in mentoring at very affordable ethical hacker fees as per the daily discounts in our institutes.
Here are some use cases of ethical hacking:
Penetration Testing
Professionals use penetration testing to recognize security flaws & loopholes in organizations/ individual's resources, such as
Computer Systems.
Networks, and
Applications.
Ethical hackers use dummy attacks on resources for the benefit of the firms.
Security Consulting
An ethical hacker who has the ability to conduct better valuable plans will be able to guide organizations in enhancing their security measures. Organizations get various kinds of assistance from such professionals for the following tasks.
Assessing,
Designing, and
Implementing effective security planning.
Here are some ways professionals use security consulting for the benefit of firms.
Risk Assessment,
Security Strategy Development,
Security Architecture Design,
Compliance & Regulatory Compliance,
Security Incident Response Planning,
Security Awareness & Training,
Vendor & Product Evaluation,
Penetration Testing & Vulnerability Assessments,
Security Governance & Compliance, and
Continuous Monitoring & Improvement.
Incident Response
With the skillsets of ethical hacking, organizations will be able to manage & prevent the impact of cybersecurity events. Deploying a systematic & hyperactive approach, such technique will benefit the firms.
Security Research
In IT Sector, Security research plays an essential role in enhancing security measures & preventing cyber attacks. Ethical hackers can execute in-depth analyses, identify loopholes, and develop security measures to improve protection layers.
Cybersecurity Education
In this digital world, everyone needs cyber security education to fight against online threats to protect themselves. With the help of such education, organizations can advance their security measures to protect themselves against cyber attacks.
Reasons  to learn ethical hacking:
1 Job Opportunities
After honing the ethical hacking, one will be able to apply for the following job profiles.
Ethical Hacker/ Penetration Tester,
Security Analyst,
Security Consultant,
Security Engineer,
Forensic Analyst,
Incident Responder,
Security Architect,
Security Operations Center (SOC) Analyst,
Security Manager, and
Cybersecurity Trainer/ Educator.
2 Improved Cybersecurity
After learning ethical hacking skills, one will be able to provide enough guidance to enhance cybersecurity measures for individual needs. Some of the benefits are as follows.
Identifying Vulnerabilities,
Patching Security Gaps,
Testing Incident Response Readiness,
Enhancing Security Awareness,
Improving Security Configurations,
Validating Security Investments,
Compliance & Regulatory Requirements, and
Continuous Improvement.
3 Professional Development
One who has expertise in ethical hacking skills will be able to improve their personal skills and will be able to acquire the following achievements.
Certifications,
Specialization,
Continuous Learning,
Bug Bounty Programs,
Research & Publication,
Collaboration & Networking,
Learning & Management Roles, and
Teaching & Training.
4 Ethical Hacking is Legal
Ethical hacking is a kind of procedure in which the practitioner execute their techniques which the authorities' permission to find security flaws in the organization's digital infrastructure. After that, organizations will have the chance to manage & prevent cyber attacks in the future for better security.
5 Personal Interest
Several individuals learn ethical hacking to pursue a career in IT Sector within the ethical hacking domain. However, one can also learn such skills for their personal benefit so that they can learn about technology and the use of cyber security measures to protect their confidential information against online threats. Some of the benefits are as follows.
Motivation & Passion,
Intrinsic Satisfaction,
Continuous Learning,
Creative Problem Solving,
Career Advancement,
Contribution to Security Community, and
Positive Impact.
Ethical Hacking Course Content
MODULE 01: Introduction to Basics of Ethical Hacking
MODULE 02: Foot-printing Active (Tool Based Practical)
MODULE 03: Foot-printing Passive (Passive Approach)
MODULE 04: In-depth Network Scanning
MODULE 05: Enumeration User Identification
MODULE 06: System Hacking Password Cracking & Bypassing
MODULE 07: Viruses and Worms
MODULE 08: Trojan and Back door
MODULE 09: Bots and Botnets
MODULE 10: Sniffers MITM with Kali
MODULE 11: Sniffers MITM with Windows
MODULE 12: Social Engineering Techniques Theoretical Approach
MODULE 13: Social Engineering Toolkit Practical Based Approach
MODULE 14: Denial of Service DOS & DDOS Attacks
MODULE 15: Web Session Hijacking
MODULE 16: SQL Injection Manual Testing
MODULE 17: SQL Injection Automated Tool Based Testing
MODULE 18: Basics of Web App Security
MODULE 19: Hacking Web servers Server Rooting
MODULE 20: Hacking Wireless Networks Manual CLI Based
MODULE 21: Hacking Wireless Network
MODULE 22: Evading IDS, Firewall
MODULE 23: Honey pots
MODULE 24: Buffer Overflow
MODULE 25: Cryptography
MODULE 26: Penetration Testing: Basics
MODULE 27: Mobile Hacking
MODULE 28: Internet of Things (IoT) Hacking
MODULE 29: Cloud Security and many more
Course Duration
Course Duration: 40 Hours
Course Level: Intermediate
Include: Training Certificate
Language: English, Hindi
Course Delivery: Classroom Training
Our Students Placed in Companies
Our Google Reviews
Frequently Asked Questions
About Ethical Hacking Course