WEB APPLICATION VULNERABILITY DWAV20 STANDARD
Bytecode's Cyber Security, the Best Cyber Security Institute, is prepared to offer an extensive Online Web Application Security Course in Delhi.  This course is designed with a verified and fully accredited curriculum, ensuring that our students receive the highest quality education to enhance their knowledge and skills in the field of web application security.  By enrolling in the comprehensive online web application security course, participants will acquire the essential knowledge and skills necessary to excel in the field of web application security.
This course offers a thorough understanding of best practices and strategies to ensure the highest level of security for web applications.  Successful completion of this course will enhance one's prospects for employment in reputable IT organizations.  This course aims to provide students with the essential fundamentals of web penetration testing.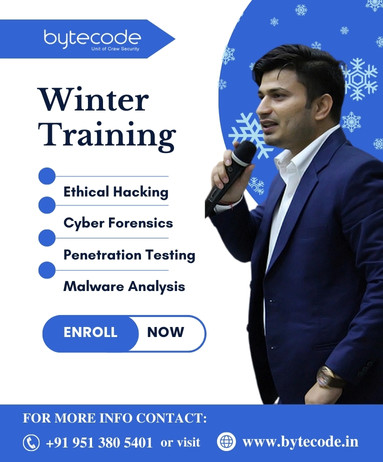 What will you learn in the Online Web Application Security Training in Delhi?
Within this extensive course on online web application security, diligent students will get an extensive comprehension of many essential topics pertaining to the course on online web application penetration testing. This knowledge will greatly enhance students' prospects of securing lucrative employment within the information security field.  The individual will receive a comprehensive overview of several vulnerabilities, including but not limited to SQL Injection, Cross-Site Scripting (XSS), PHP Injection, Indirect Object Reference, Cross-Site Request Forgery (CSRF), and numerous more.
A learner can acquire a reputable certification in web application security that is recognized by a wide range of IT firms, both large and small. This certification will enhance the learner's qualifications and enable them to confidently apply for any web developer position that becomes available during the recruitment process.  Furthermore, Bytecode Security has been recognized as a leading provider of application security training, offering students top-quality training modules designed to enhance their understanding of web application security standards.
Top-Notch Online Web Application Security Training Course
We provide an extensive and enduring educational opportunity in the field of web application security training, located in the area of Delhi NCR.  The web security course is offered by highly educated and experienced teaching faculty who possess over a decade of industry expertise, gained from renowned IT firms in India.  Bytecode Security, a prominent online web application security training institute in Delhi NCR, provides exceptional educational resources and modern facilities for studying a comprehensive web pentesting course.
Learn From Home with Online Training
Bytecode Cyber Security Provide 24x7 Classes
Students can attend classes from their homes. It takes less time to attend an online class. At the same time, various groups can attend online classes with bytecode Cyber Security From home.
Eligibility Criteria
Any graduate, undergraduate or post-graduate student having a passion for information security can undergo our Cyber Security course in Delhi and become a certified ethical hacker. If you are willing to know more about the course or admission eligibility, just give us a call and we will suggest the best batch option for you.
OUR CURRICULUM
Module 01: SQL Injections Flaws
Module 02: Cross-Site Scripting Flaw
Module 03: Source Code Disclosure Flaw
Module 04: OS Command Injection Flaw
Module 05: Broken Authentication and Session Management
Module 06: File Upload Vulnerability
Module 07: CSRF – Cross-Site Request Forgery
Module 08: Sensitive Data Exposure
Module 09: Insecure Direct Object Reference
Module 10: Local file Inclusion and Remote File Inclusion(LFI and RFI attack)
Module 11: Directory Traversal Attack
Module 12: Insecure Transport Level Communication
Module 13: Information Exposure Through an Error Message
Module 14: Invalid URL Redirection Flaw
Module 15: Hard-coded Credentials in Static Code
Module 16: Hard-coded Credentials in Static Code
Module 17: Security Mis-Configuration
Module 18: Missing Authorization and Authentication for Critical Functions
Module 19: Session Fixation
Module 20: Weak Data Encryption
Module 21: Information Leakage
Course Duration
Course Duration: 40 Hours
Course Level: Intermediate
Include: Training Certificate
Language: English, Hindi
Course Delivery: Classroom Training
Our Students Placed in Companies
Our Google Reviews
Our Related Course
Frequently Asked Questions
About The Web Application Security Training Course Program