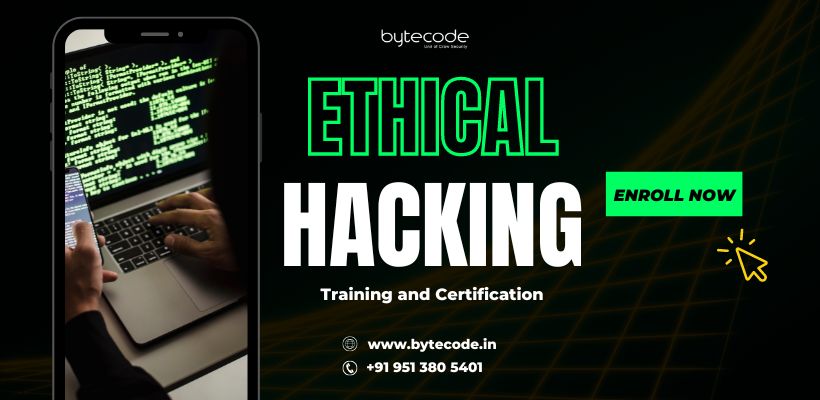 About The Online Ethical Hacking Training
The curriculum of the Online Ethical Hacking Course in Delhi offered by Bytecode Security encompasses the most recent tools, techniques, and trends in the field. This course is delivered by highly qualified and knowledgeable trainers.  Comprehend the foundational principles including the introductory online ethical hacking course.  The certification for this online ethical hacking course has the ability to effectively develop a novice applicant into a proficient ethical hacker, capable of infiltrating IT infrastructures using the same techniques as a potential hacker, while also adeptly protecting them in the manner of a professional security analyst.  Obtain a formal certification pertaining to the online ethical hacking course, which effectively verifies the acquired abilities and competence acquired through interactive live classroom training sessions.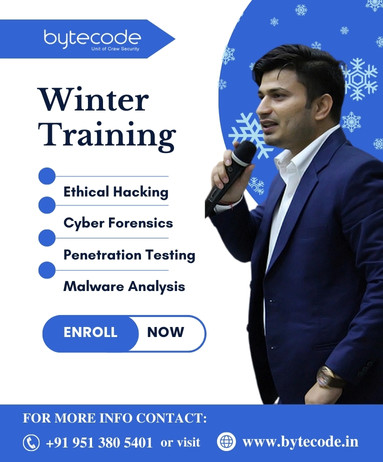 What will you learn in the Online Ethical Hacking Course After 12?
Bytecode Security is a reputable institution specializing in ethical hacking located in Delhi NCR. They provide a comprehensive, well-structured, and specifically designed online ethical hacking course for beginners.  The curriculum is carefully crafted to encompass all the necessary knowledge and is delivered by highly skilled and experienced trainers.  Furthermore, obtaining a degree from a reputable ethical hacking course can provide you with a comprehensive understanding of the information security domain.  This expertise will be applicable to real-world work opportunities across esteemed IT organizations in the foreseeable future.
In addition, individuals from any area of the world who have completed their secondary education from a recognized educational board are eligible to enroll in the ethical hacking course. This course is highly esteemed and requires meeting the basic entrance requirements.
Best Online Ethical Hacking Institute Near Me
The acclaimed institution, Bytecode Cyber Security Institute, has gained recognition as the leading online ethical hacking institute in India due to its provision of a meticulously tailored curriculum that emphasizes sincerity and ethical principles. This institute offers a high-quality ethical hacking course specifically designed for novices.  The acquisition of comprehensive foundational knowledge in the field of ethical hacking can be achieved by enrollment in the esteemed educational institution, Bytecode Security.
Ethical Hacking Course Online
The Ethical Hacking Course Online is provided by Bytecode Security through Virtual Instructor-Led Training (VILT) sessions. These sessions are facilitated by cyber security trainers who possess extensive expertise and experience in the field, representing diverse IT organizations worldwide.  The online ethical hacking course offers comprehensive materials necessary for anyone interested in learning about ethical hacking. The course is facilitated by highly experienced instructors with over 10 years of teaching experience in esteemed cyber security universities in India.
Eligibility Criteria
Any graduate, undergraduate or post-graduate student having a passion for information security can undergo our Cyber Security course in Delhi and become a certified ethical hacker. If you are willing to know more about the course or admission eligibility, just give us a call and we will suggest the best batch option for you.
Online Ethical Hacking Course for Beginners Key Features
Viruses and Worms, Trojan and Back Door, SQL Injection Manual Testing
Hacking Webservers Server Rooting, Hacking Wireless Network, Penetration Testing: Basics
System Hacking Password Cracking & Bypassing
Internet of Things (IoT) Hacking, Cloud Security, and many more.
Learn From Home with Online Training
Bytecode Cyber Security Provide 24x7 Classes
Students can attend classes from their homes. It takes less time to attend an online class. At the same time, various groups can attend online classes with bytecode Cyber Security From home.
Course Module for Online Ethical Hacking Training in Delhi
Module 01 – Introduction to Basics of Ethical Hacking
Module 02 –Foot-printing Active (Tool Based Practical)
Module 03 – Foot-printing Passive (Passive Approach)
Module 04 – In-depth Network Scanning
Module 05 – Enumeration User Identification
Module 06 – System Hacking Password Cracking & Bypassing
Module 07 – Viruses and Worms
Module 08 – Trojan and Back door
Module 09 – Bots and Botnets
Module 10 – Sniffers MITM with Kali
Module 11 – Sniffers MITM with Windows
Module 12 – Social Engineering Techniques Theoretical Approach
Module 13 – Social Engineering Toolkit Practical Based Approach
Module 14 – Denial of Service DOS & DDOS Attacks
Module 15 – Web Session Hijacking
Module 16 – SQL Injection Manual Testing
Module 17 – SQL Injection Automated Tool Based Testing
Module 18 – Basics of Web App Security
Module 19 – Hacking Webservers Server Rooting
Module 20 – Hacking Wireless Networks Manual CLI Based
Module 21 – Hacking Wireless Network
Module 22 – Evading IDS, Firewall
Module 23 – Honey pots
Module 24 – Buffer Overflow
Module 25 – Cryptography
Module 26 – Penetration Testing: Basics
Module 27 – Mobile Hacking
Module 28 – Internet of Things (IoT) Hacking
Module 29 – Cloud Security and many more
Course Duration
Course Duration: 60 Hours
Course Level: Intermediate
Include: Training Certificate
Language: English, Hindi
Course Delivery: Classroom Training
Our Students Placed in Companies
Our Google Reviews
Our Related Course
Frequently Asked Questions
About The Ethical Hacking Training and Certification Course Program