WINTER TRAINING IN DELHI
Cyber Security Winter Training Program in Delhi 2023
In the arena of safeguarding devices through effective cybersecurity practices, it is imperative for individuals to receive high-quality instruction from qualified trainers with extensive experience in imparting fundamental knowledge in this field.
In this context, cyber security winter training often denotes an educational course or program that concentrates on instructing individuals on diverse cybersecurity subjects and methodologies specifically during the winter season. Additionally, this winter training program in cyber security may encompass several subjects including network security, threat intelligence, incident response, and penetration testing. The delivery of the content can be conducted through several methods, encompassing face-to-face interactions, online platforms, and self-directed learning.
The primary objective of cyber security winter training is to provide individuals with the necessary knowledge and abilities to safeguard their enterprises and personal data against potential cyber threats.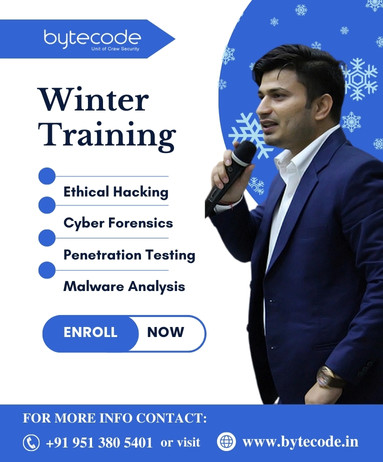 A Top-Notch Cyber Security Training Institute in Delhi
Several prestigious cyber security training institutes in the National Capital Territory of Delhi provide high-quality cyber security winter training in 2023. This training program aims to promote professional education in the field of cybersecurity to individuals who are keen on acquiring knowledge in this domain. Nevertheless, the selection process for these institutions can be rather challenging, as they frequently perplex pupils by allocating their time to superfluous disciplines that offer little long-term value.
In contrast, Bytecode Security, a prominent cybersecurity training institute in Delhi NCR region, provides a comprehensive range of cybersecurity courses that can prove highly beneficial for individuals new to the field of cybersecurity, seeking to acquire foundational information from the ground up.
Quickly Build In-Demand Cyber Security Online Training
We currently find ourselves in an era characterized by limited time and spatial constraints, which hinder our ability to engage in comprehensive learning experiences that require physical presence at a given location. However, it is necessary to undergo high-quality online training in cyber security, guided by a knowledgeable educator with substantial experience.
In this context, there is a sincere request for a comprehensive online cybersecurity course, which can only be met by participation in the cybersecurity winter training program offered by Bytecode Security. This program is conducted by instructors who possess exceptional expertise and are driven by strong motivation.
Furthermore, this course belongs to the domain of cyber security courses offered in India after completing the 12th grade. It is developed by well-structured cyber security training schools, led by skilled trainers and mentors. Furthermore, the cyber security winter training program encompasses meticulously designed courses aimed at equipping newcomers with the necessary certifications in cyber security. This ensures that individuals from non-IT backgrounds are also able to acquire knowledge in these courses.
Know More About Pocket-Friendly Cyber Security Course Duration and Fees
One of the primary factors influencing learners' selection of our winter training in cyber security courses is the presence of a comprehensive cybersecurity education program. Additionally, the program's incredibly competitive pricing, which is uncommonly seen elsewhere, further contributes to its appeal. The training and curriculum quality offered at this price range are notably exceptional. Bytecode Security, a leading cybersecurity training institute in India, provides competitively priced training programs within this particular range. Interested individuals may obtain further information by contacting our toll-free number, +91-9513805401, and engaging in a brief conversation with our knowledgeable educational counselors.
In addition, individuals who are interested in pursuing education may also inquire about the duration of courses offered at the cyber training college, which are categorized based on their value and corresponding fees in accordance with international standards.
Cyber Security Winter Training Program In Delhi
The primary focus of this study pertains to the expansion of the Indian economy. Opting for a career in Cyber Security Winter Internship presents a remarkable prospect. The Winter Training Program is a comprehensive educational initiative designed to provide individuals with an opportunity to enhance their skills and knowledge throughout the winter season.
In addition, India is making progress in the realm of digitization; yet, it is faced with numerous obstacles and hurdles throughout this transformative journey. The primary factor contributing to the compromise of data and information is hacking, whereby individuals with malicious intent attempt to unlawfully acquire and exploit sensitive data.  The primary emphasis of cyber security lies in ensuring the accessibility, integrity, and availability of information within the domains of information security and cyber security.
Benefits of the Winter Training Program
Bytecode Security is currently accepting applications from eligible candidates for enrollment in their cyber security winter training program in New Delhi, India. Under favorable conditions, there exist several advantages that may influence individuals to select Bytecode Security as their preferred institute over other alternatives:
| | |
| --- | --- |
| Benefit | Description |
| Flexibility | Numerous online winter training programs in the field of cyber security are available, enabling individuals to conveniently participate from any location and at their preferred speed. This can be particularly advantageous for individuals employed in professional settings who may have constraints in terms of their ability to allocate time for in-person training. |
| Intensity | Winter training programs in the field of cyber security frequently provide compressed and rigorous courses that encompass a broad spectrum of subjects within a limited timeframe. This option is particularly suitable for persons seeking to acquire a substantial amount of knowledge within a short span of time. |
| Career Advancement | Furthermore, participation in Cyber Security Winter Training programs can facilitate career progression for individuals by equipping them with the requisite knowledge and competencies to assume higher-level positions within the realm of cybersecurity. |
| Networking | In addition, numerous Cyber Security Winter Training programs provide a platform for experts in the industry to establish connections with peers, potentially resulting in employment prospects and various advantages for their careers. |
| Hands-on experience | There are several Cyber Security Winter Training programs available that provide participants with practical experience by engaging them in hands-on activities such as labs, projects, and real-world scenarios. This enables them to apply their acquired knowledge to real-life situations and acquire practical skills. |
| Certification | The Winter Training in Cyber Security program provides participants with the opportunity to obtain certifications upon successful completion. These certifications serve as a means for individuals to showcase their expertise and abilities in the field of cyber security to potential employers, thereby enhancing their prospects of securing employment or advancing in their careers. |
| Self-Improvement | The winter season is a favorable occasion for individuals to acquire new skills and enhance personal development. Particularly, undertaking cyber security training in India during this period is highly advantageous and recommended. |
| Holistic learning | Numerous programs moreover provide a comprehensive strategy for education, enabling participants to comprehend the wider framework of cybersecurity and its ramifications on society, culture, and the economy. |
| 100% Placement Assistance | Bytecode Security offers comprehensive cybersecurity training programs in India, specifically tailored to cultivate exceptional skills and knowledge in the field. These diploma courses are meticulously intended to foster a high caliber of cybersecurity expertise among participants, with the added assurance of job placement upon successful completion. |
*Available for certain Diploma Courses
Top Cyber Security Courses in Delhi
➜   6 Months Information Security Diploma Course
➜  1 Year Cyber Security Master Diploma Course
➜  Cisco Certified Network Associate Training and Certification
➜  Python Programming Training
➜  CompTIA Security Plus Training and Certification
➜  Cisco Certified Network Professional Training and Certification
➜  Red Hat Certified System Administrator Training
➜  Artificial Intelligence Training
➜  Python With Data Science
➜  Machine Learning with Data Science Training
➜  Web Application Security Training
➜  CompTIA Network Plus Training and Certification
➜  Red Hat Certified Engineer Training
➜  Amazon Web Security (AWS) Training
Process of Joining Our Winter Training Program
Online registration process
➜  Fill The Above Form
➜  After Submission of Form Send Required document and 2 Passport Size photographs to e-mail Address:- [email protected]
➜  Pay Registration Fee
➜  10th Pass, 12th Pass and Graduated with Basic Knowledge of Computer
➜  You Can Pay a Fee Both Method Online and Offline
Offline registration process
➜  Visit Our Training Center
➜  Meet Our Professional Counselor
➜  Fill Registration Form, Submit all the Documents.
➜  For Joining a Course You Should have clear 10th, 12th and Graduated with Basic Knowledge of Computer
➜  You Can Pay a Fee Both Method Online and Offline
Latest Student Reviews
Google Review (1,126)
Student Placed in Companies
Frequently Asked Questions
About Cyber Security Winter Training 2023