WINTER TRAINING IN DELHI
Cyber Security Winter Training Program in Delhi 2023
In the league of securing gadgets with proper cyber security methodologies, everyone needs to have world-class guidance under primetime certified trainers having numerous years of authentic experience in delivering the same type of cyber security fundamental knowledge to the learners.
In this regard, cyber security winter training typically refers to a course or program that focuses on teaching individuals about various cybersecurity topics and techniques during the winter months. Further, this cyber security winter training may cover topics such as network security, threat intelligence, incident response, and penetration testing. It can be delivered in a variety of formats, including in-person, online, and self-paced.
Ultimately, the goal of cyber security winter training is to equip individuals with the knowledge and skills they need to protect their organizations and personal information from cyber threats.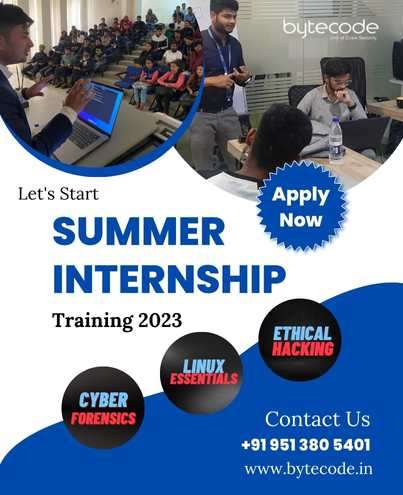 A Top-Notch Cyber Security Training Institute in Delhi
Many top-notch cyber security training institutes in the NCT of Delhi offer primetime cyber security winter training 2023 in the league of promoting professional cybersecurity education to all interested learners in the wild. However, it is pretty hard to choose from these institutes as they often puzzle the learners by wasting their time by providing them with additional worthless subjects that would not benefit them in the long run.
On the other hand, Bytecode Security, a subsidiary of Craw Cyber Security Institute, offers a long list of cybersecurity courses that can be very advantageous for cybersecurity newbies willing to grab the fundamental knowledge of cybersecurity from scratch.
Quickly Build In-Demand Cyber Security Online Training
We are sincerely in an age where we do not possess a lot of time and space to give ourselves to learn everything by being physically present there on the spot. However, require some best cyber security online training under the hi-fi mentorship of a good cyber security instructor with some experience.
In this regard, we genuinely demand a great cyber security course in the online pattern that can only be fulfilled in the cyber security winter training facilitated by Bytecode Security with its highly skilled and motivated instructors.
Moreover, this is a course that falls under the category of cyber security courses after 12th in India, cultivated by highly organized cyber security training institutes under superb trainers and mentors. In addition, the courses included in this cyber security winter training are dedicatedly developed to provide cyber security qualifications for beginners so that every individual hailing from even non-IT backgrounds can also learn these courses.
Know More About Pocket-Friendly Cyber Security Course Duration and Fees
One of the major reasons that learners choose our winter training in cyber security courses, apart from the genuinely operating cybersecurity education, is its highly competitive price range that is hard to find somewhere else with this level of training and curriculum quality. In this range, Bytecode Security, the Best Cyber Security Training Institute in India, offers prices that are very cost-effectively, which anyone can enquire about by calling on our toll-free mobile number +91-9513805401 and having a quick word with our highly experienced educational counselors.
Meanwhile, a prospective learner can also enquire about the course durations that are distinguished as per the course value and prices in the international-standard cyber training institute.
Winter Training Program In Delhi
It is mainly concerned with the growth of the Indian economy. Choosing a carrier in Cyber Security winter Internship is a great opportunity. Winter Training Program In Delhi | India is moving onward in digitization, but there are so many difficulties and challenges in this process. The main cause is hacking and securing data and information, as many hackers everywhere try to steal and misuse the data. Winter Training Program In Delhi| So cyber security mainly focused on accessibility, integrity, and availability in information Security and Cyber Security.
Benefits of the Winter Training Program
As Bytecode Security is inviting applications from all eligible candidates to join cyber security winter training program in New Delhi, India, under the prime circumstances, there are certain benefits by which one can choose oneself reason to choose Bytecode Security over any other institute:
Benefit
Description

Flexibility

Many

winter training in cyber security

programs is offered online, which allows participants to attend from anywhere and at their own pace. This can be especially useful for working professionals who may not be able to take time off for in-person training.

Intensity

Cyber Security Winter Training

programs often offer condensed, intensive courses that cover a wide range of topics in a short period of time. This can be ideal for individuals who want to gain a lot of knowledge quickly.

Career Advancement

In addition,

Cyber Security Winter Training

programs can help individuals advance their careers by providing them with the knowledge and skills they need to take on more advanced roles in the field of cybersecurity.

Networking

Moreover, several

Cyber Security Winter Training

programs offer the opportunity to network with other professionals in the field, which can lead to job opportunities and other career benefits.

Hands-on experience

Ahead, numerous

Cyber Security Winter Training

programs offer hands-on experience through labs, projects, and real-world scenarios, which allows participants to apply what they've learned to real-world situations and gain practical experience.

Certification

Ahead, this

Winter Training in Cyber Security

program offers certifications upon completion, which can help individuals demonstrate their knowledge and skills to employers and increase their chances of getting hired or promoted.

Self-Improvement

It's an excellent opportunity to learn new skills and improve oneself during the winter time as it is pretty good to take

cyber security training in India

while you certainly can.

Holistic learning

Many programs also offer a holistic approach to learning, which allows participants to understand the broader context of cybersecurity and its impact on society, culture, and the economy.

100% Placement Guarantee*

Bytecode Security provides sincere

cyber security training with job guarantee in India

on certain diploma courses that are strictly designed to develop world-class cybersecurity-related qualities among learners.
*Available for certain Diploma Courses
Top Cyber Security Courses in Delhi
➜   6 Months Information Security Diploma Course
➜  1 Year Cyber Security Master Diploma Course
➜  Cisco Certified Network Associate Training and Certification
➜  Python Programming Training
➜  CompTIA Security Plus Training and Certification
➜  Cisco Certified Network Professional Training and Certification
➜  Red Hat Certified System Administrator Training
➜  Artificial Intelligence Training
➜  Python With Data Science
➜  Machine Learning with Data Science Training
➜  Web Application Security Training
➜  CompTIA Network Plus Training and Certification
➜  Red Hat Certified Engineer Training
➜  Amazon Web Security (AWS) Training
Process of Joining Our Winter Training Program
Online registration process
➜  Fill The Above Form
➜  After Submission of Form Send Required document and 2 Passport Size photographs to e-mail Address:- [email protected]
➜  Pay Registration Fee
➜  10th Pass, 12th Pass and Graduated with Basic Knowledge of Computer
➜  You Can Pay a Fee Both Method Online and Offline
Offline registration process
➜  Visit Our Training Center
➜  Meet Our Professional Counselor
➜  Fill Registration Form, Submit all the Documents.
➜  For Joining a Course You Should have clear 10th, 12th and Graduated with Basic Knowledge of Computer
➜  You Can Pay a Fee Both Method Online and Offline
Latest Student Reviews
Google Review (1,126)
Student Placed in Companies

Frequently Asked Questions
About Cyber Security Winter Training 2023