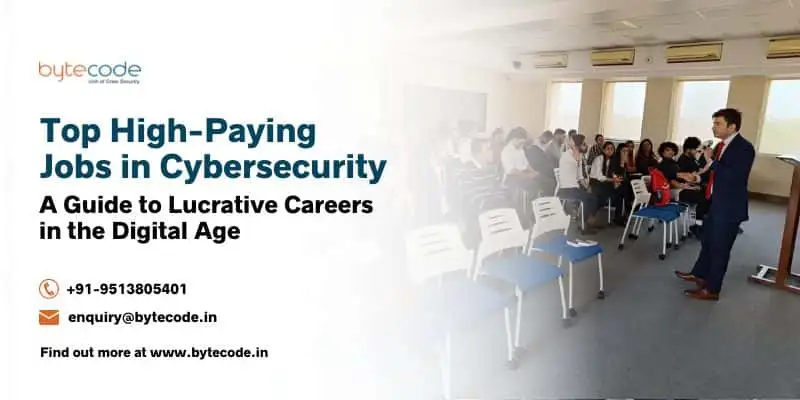 Nowadays, the international market is prominently witnessing a huge number of cyber attacks on the varied IT interfaces of every third organization hailing from any specialized niche or genre.  As a result, the current industries are in a hustle to acquire permanent staff that can nicely track down all the vulnerabilities in their IT infrastructures present in the IT ecosystem in the shape of coding errors that can certainly give some backdoor entry to the black hat hackers.
Hence, the current market demands more professional individuals with a working knowledge of cyber security to apply for the vacant positions at their respective organizations.
In the process of choosing the best high-paying jobs in cyber security, we ultimately hope that some miracles happen to us and we land some world-class cyber security jobs that even pay well.
Career Outlook for High-Paying Cyber Security Jobs
There can be several high-paying cyber security jobs that are certainly available in the market to make a difference in enhancing the security posture of diverse IT infrastructures of a target organization.  In this league, some of the famous cyber security jobs are mentioned below:
Chief Information Security Officer (CISO)
Lead Software Security Engineer
Cybersecurity Engineer
Cybersecurity Architect
Cybersecurity Manager/Administrator
Penetration Tester
Information Security Analyst
Application Security Engineer
Network Security Engineer
Director of Information Security
Now, we will explain the mainstream career outlook for the best high-paying jobs in cyber security as follows:
| | |
| --- | --- |
| Chief Information Security Officer (CISO) | The development and execution of an organization's comprehensive security strategy fall under the purview of the Chief Information Security Officer (CISO), a senior-level executive.  In addition, all data systems and networks within a business must be secure, and this includes safeguarding data, systems, and networks from unwanted access, damage, or theft.  Along with overseeing the installation of suitable security measures, the CISO is also in charge of creating and implementing security policies and procedures.  Moreover, the  CISO is also in charge of overseeing security operations, ensuring compliance with legal requirements, and creating plans for handling security events and intrusions. |
| Lead Software Security Engineer | The lead software security engineer's responsibility is to offer advice and technical support for creating secure software applications.  The creation of the best security guidelines, security protocols, and security architectures for several software apps will fall under the direction of the lead software security engineer.  The organization's and industry standards' security requirements for the software applications will be met by the lead software security engineer. |
| Cybersecurity Engineer | An organization's systems, networks, and information are protected from cyberattacks by network security solutions that a cybersecurity engineer designs, implements, and manages.  To safeguard the information of a company, they also create security standards, keep an eye out for security holes in networks, evaluate security data, and suggest and put into practice security solutions.  They must also stay current on the newest security risks and technology and act swiftly in the event of a security crisis. |
| Cybersecurity Architect | A practitioner that designs, develops, and implements security measures to shield a company's information systems against online threats and other hostile attacks is known as a cybersecurity architect.  In addition, the organization's security architecture is kept current and safe thanks to the strong collaboration between the cybersecurity architect and IT and security staff.  Moreover, they assess, manage, and oversee the organization's security posture and offer recommendations and direction on security-related matters. |
| Cybersecurity Manager/Administrator | A firm's cyber security systems must be managed and protected by cybersecurity managers/administrators.  Their responsibilities as security policy developers, security system monitors, security breach investigators and responders, and educators of staff in cyber security quality standards.   As they operate to build plans to safeguard the company's networks and information, they must also keep current on the most recent security risks and technology.  Strong technical expertise, knowledge of network security standards, and top-notch communication and organizational abilities are requirements for this position. |
| Penetration Tester | A company's networks, systems, and applications are tested by a penetration tester, a cybersecurity expert, to find any probable weak points and vulnerabilities.  To find security holes and potential attack vectors, they combine automated scanning tools, manual inspection, and other methods.  In addition to this, they then offer advice to the firm on how to fix any flaws found and strengthen its overall security posture. |
| Information Security Analyst | For a business or organization, a security analyst is in charge of investigating and evaluating information security systems.  They must be well versed in both software and hardware security solutions and possess excellent communication and problem-solving abilities.  The ability to develop, update, and manage security policies, methods, and standards is a requirement for security analysts.  Additionally, they must regularly audit security, look into security lapses, and make disaster recovery plans. |
| Application Security Engineer | The creation of safe systems and apps is the responsibility of an application security engineer.  This could entail giving advice on secure coding techniques, creating secure architectures, vetting software for security problems, and doing vulnerability analyses.  To effectively engage with developers, architects, and management, the engineer must be conversant with the most recent security best practices and technology. |
| Network Security Engineer | The management and upkeep of a network's security infrastructure is the responsibility of a network security engineer.  Configuring and evaluating security systems, recognizing and dealing with possible risks to security, and creating security rules and procedures are all included in this.  Additionally, they must be able to keep an eye out for unusual activities on networks and react to security incidents.  The Network Security Engineer must stay current on special security solutions and best practices as technology develops. |
| Director of Information Security | In order to guarantee the safety of a firm's data and systems, the director of information security is in charge of managing the security team.  This person will be in charge of creating, implementing, and overseeing a data security strategy that complies with organizational, industry, and regulatory standards.  Managing security policies, doing risk analyses, and ensuring that the firm's information and systems are secure from harmful and unauthorized access are other responsibilities of this position. |
Skills Needed for Getting High-Paying Jobs in Cyber Security
Knowledge of Network Security
Knowledge of Cryptography
Knowledge of Operating Systems
Understanding of Computer Forensics
Knowledge of Web Security
Knowledge of Malware, etc.
Education
The best-class education is highly required by some of the mainstream hiring executives/ managers.  Hence, we recommend everyone complete their graduation side-by-side before appearing for face-to-face interactions as they certainly give preference to the persons who have successfully completed their bachelor's degree in some relevant disciplines.
Moreover, for seeking enrollment in a world-class 1 Year Diploma in Cyber Security Course by Bytecode Security, a person needs a valid 10+2 passed certificate from a recognized board from anywhere in the world.
Certifications
Many international-standard best high-paying jobs in cyber security dedicatedly need many world-class certifications to be completed by a job applicant before applying for a preferred job, such as the following:
EC-Council CPENT Certification
EC-Council CEH v12 Certification
EC-Council CHFI Certification
OSCP Certification Training
CompTIA Security+ Certification
Salary Outlook
As we previously said, the average salary for many of the highest-paid cybersecurity roles ranges from $100,000 to $200,000, with some higher roles earning up to $400,000 or more.  It's crucial to remember that your pay will rely on a variety of things, such as the job itself, the firm, the location of the employment, the duties involved, and the level of expertise needed.
Best Job Locations
As per many world-class organizations, the best 10 best cities for cybersecurity jobs include:
Huntsville, Alabama
Washington, D.C
Augusta, Georgia
Bangalore, Karnataka
Des Moines, Iowa
Gurugram, Haryana
Raleigh, North Carolina
Utica, New York
Silicon Valley Cities
Hyderabad, Telangana
Additional Cybersecurity Careers You Might Be Interested In
Are you thinking about a profession in cybersecurity?  Here are some additional well-liked choices:
Ethical Hacker
Security Consultant
Network Administrator
System Administrator
Cybersecurity Analyst
Security Auditor
Cybersecurity Specialist
Cybersecurity Consultant
FAQs
About the Best High Paying Jobs in Cyber Security
1: Which cyber security course is best?
The response to this query is complex and involves an array of variables, including your existing skillset and the kind of employment you are seeking.  However, the Certified Ethical Hacker (CEH), CompTIA Security+, SANS GIAC, and ISC2's Certified Information Systems Security Professional are some of the most well-liked and respected cyber security programs (CISSP).
Moreover, you may also opt-in for the 1 Year Diploma in Cyber Security Course by Craw Security, the best cyber security training institute in India nowadays, offering you world-class information security courses down the line.
2: What is the highest paying cyber security jobs?
The job roles with the most accountability and knowledge in the field of cyber security often receive the highest salaries.  Examples of such professions are Chief Information Security Officer, Security Architect, Security Engineer, Security Analyst, and Penetration Tester.  These positions typically pay between $80,000 and $200,000 annually and ask for substantial experience and specific knowledge.
3: Can I learn cyber security in 3 months?
There are varied courses in the wild that offer you many fast-track courses that can provide you enough knowledge to brush up your skill in cyber security in mere 3 months.  However, we will recommend you go for the 1 Year Cyber Security Diploma so that you can learn and understand the fundamentals of cyber security right from scratch under the prominent guidance of a globally recognized training instructor.
4: Is cyber security course worth IT?
A cyber security course is indeed worthwhile.  The domain of cyber security is expanding and presents several career prospects for qualified individuals.  You can earn well in this industry if you receive the appropriate training and credentials.  Furthermore, the knowledge you get in a cyber security course can assist in defending any firm from online threats and data breaches.
5: What are 5 careers in cybersecurity?
The 5 mainstream careers in cybersecurity are as follows:
Cybersecurity Analyst
Security Engineer
Network Security Administrator
Chief Information Security Officer (CISO)
Penetration Tester
6: What is the highest paid job in IT?
The best-paying IT position often relies on the candidate's background, credentials, and geographic location.  Software architects, software engineers, and information security experts typically hold the top-paying IT positions.
7: Which field is best in cyber security?
Network security, virus analysis, digital forensics, application security, and cloud security constitute the most sought-after specialties in the cybersecurity industry.
8: Is cybersecurity a good career option?
Yes, in the long run, cybersecurity is a good career choice to live a worthwhile life with no monetary issues.
9: Does cybersecurity pay well?
Yes, it is one of the most high-paying jobs in the cybersecurity domain, in which working professionals earn a good amount of salaries for their day-to-day official chores.
10: What companies are hiring for Cyber Security jobs in Singapore?
The main companies that are hiring for Cyber Security jobs in Singapore are as follows:
Accenture
Amazon Web Services
Cisco
Deloitte
Ernst & Young
FireEye
IBM
KPMG
Microsoft
PwC
RSA
Singtel
Symantec
Trend Micro
Verizon
Wipro
11: What are the top cities near Singapore with open Cyber Security jobs?
The top cities near Singapore with open Cyber Security jobs are as follows:
Kuala Lumpur, Malaysia
Jakarta, Indonesia
Bangkok, Thailand
Manila, Philippines
Ho Chi Minh City, Vietnam
Hong Kong, China
Taipei, Taiwan
Tokyo, Japan
Seoul, South Korea
Sydney, Australia
Conclusion
In the bottom line, we have tried our level best to elaborate on the best high-paying jobs in cyber security in almost every part of the world, especially in India, the USA, and Singapore.  Moreover, a person with a good understanding of cyber security and is duly certified with one of the prestigious certifications in cyber security can apply for this huge number of cybersecurity jobs throughout the world.