Information Security Courses
Information Security Specialization by Bytecode Cyber Security is a new 6-month diploma course with a 100% job guarantee. We have especially designed this course for students who want to excel in a career in cybersecurity. In this, we tend to cover the most industry demanded focussed areas considering international industry-oriented courses making an exclusive pack of one combo. The exposure to practical learning is very high. You will get a huge amount of time for practice using Live projects and real-time simulations to make you an expert in Cybersecurity. Cybersecurity has become one of the most required fields in IT and with this, the sector is booming with jobs. We have been in the industry for a long time and have experienced faculty who impart theoretical knowledge with practical hands-on experience.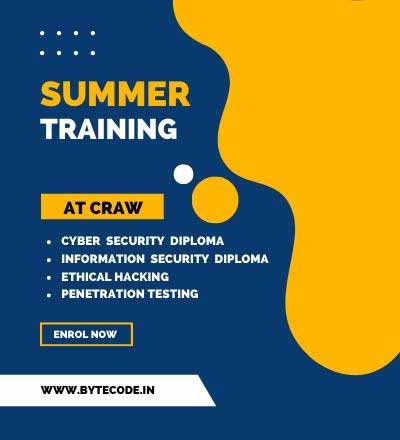 Ethical Hacking Online Course has been created keeping in mind the future of Cyber Security. This course will help students to understand the fundamentals of Cyber Security and Computer Security. This Uniquely designed Info-sec Certification Training Course will provide you with a basic understanding of the advanced tools and methodologies of the Information Security Industry.


Internationally approved Penetration testing course in Delhi is the best cybersecurity course you can join under the guidance of industry expert pen testers. We provide Pentesting labs online and offline. The penetration testing process helps you to know vulnerabilities in your system whether in networks or web applications. Our penetration testing course in Delhi provides advanced network penetration testing techniques and attacks in real-world scenarios.


Computer crime in today's cyber world is on the rise. Computer Investigation techniques are being used by police, government, and corporate entities globally and many of them turn to Bytecode Cyber Security for our Computer Hacking Forensic Investigator CHFI Training & Certification Program.


After attaining the Given Certification (DIS10.4: In-depth Advanced Networking Certification) students will be able to know more about routers and switches and also they will be having deep knowledge of the computer networking topics. After attaining the given certification candidate gains self-confidence to do Networking related work.


WEB APP SECURITY (DIS Top 20 Critical Web Application Vulnerabilities) course will help candidates get deep information about the web applications security process. Web applications security includes various vulnerabilities like SQL Injection, Php Injection, XSS, CSRF, Indirect object reference, and many more. This course will help students to get instant jobs in Cyber Security. (25 Credits towards DIS10 Diploma).


Mobile application become an essential part of our lives as our dependence on our smartphones has grown and securing them are a crucial requirement because Mobile application carry your data information in many forms. Penetration Testing can provide us with a certain level of confidence, but hacking into Mobile applications demands a different approach and setup than with web applications Penetration Testing is also known as pen-testing.


Bytecode Cyber Security is the best Python Programming Training Institute in the Laxmi Nagar area. Bytecode Cyber Security trained more than 45,000 students all over the world. We have a separate department for placement. We have trainers who have more than 20 years of experience in the related field. Bytecode Cyber Security provides 100% placement after completing the Python Training.