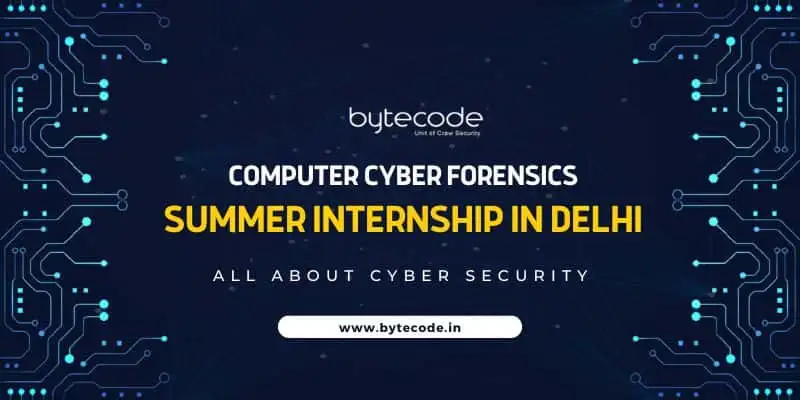 Online Computer Cyber Forensics Summer Internship in Delhi
Cyber Forensics and Investigation Summer Internship Certification focus on in-depth skills required for Computer forensics Experts, Ethical hackers, Cyber Security Analysts, Penetrations Testers, and Various Information Security Experts to deeply analyse and extract the data from various Operating Systems in the forensic Phase. This course can be done by both working professionals and Colleges Students who want to make their career in the field of Computer hacking and Cyber Crime Investigations.
We Provide Cyber Security Summer Internship Training to our students, Corporate clients, and partners because we believe that the high standards bring excellent output. We prepare our students how will they secure at our end from Malware and viruses. Our clients learn Ethical Hacking, Cyber Forensics, Networking, and some security courses in bytecode cybersecurity for becoming Security Analysts.
Eligibility Criteria
Any graduate, undergraduate or post-graduate student having a passion for information security can undergo our Cyber Security course in Delhi and become a certified ethical hacker. If you are willing to know more about the course or admission eligibility, just give us a call and we will suggest the best batch option for you.
Learn From Home with Online Training
Bytecode Cyber Security Provide 24x7 Classes
Students can attend classes from their homes. It takes less time to attend an online class. At the same time, various groups can attend online classes with bytecode Cyber Security From home.
Computer Cyber Forensics Summer Internship Curriculum
Module 01: What Is Cyber Forensics
Module 02: Methods by which Computer gets Hacked
Module 03: Computer Forensics Investigation Process
Module 04: Digital Evidence Gathering
Module 05: Computer Forensics Lab
Module 06: Setting Up Forensics Lab
Module 07: Understanding Hard Disks
Module 08: File Systems Analysis: Linux/Windows/Mac
Module 09: Windows Filesystem Forensics
Module 10: Data Acquisition Tools and Techniques
Module 11: Data Imaging Techniques and Tool
Module 12: Recovering Deleted Files and Folders
Module 13: Deleted Partitions Recovery Technique
Module 14: Forensics Investigations Using Forensics Tool Kit (FTK)
Module 15: Forensics Investigations Using Forensics Tool Kit (Oxygen)
Module 16: Forensics Investigations Using Encase Tool
Module 17: Stenography and Image File Forensics
Module 18: Application Password Crackers
Module 19: Log Capturing and Event Correlation
Module 20: Network Forensics Tools and Techniques
Module 21: Mobile Forensics Tools: Cellebrite Tool Introduction
Module 22: Investigating Logs
Module 23: Investigating Network Traffic: Wireshark
Module 24: Investigating Wireless Attacks
Module 25: Investigating Web Application Attacks via Logs
Module 26: Tracking and Investigating Various Email Crimes
Module 27: Detailed Investigative Reporting
Our Students Placed in Companies
Our Google Reviews
Our Related Course
Frequently Asked Questions
About The Cyber Forensics Training and Certification Course Program