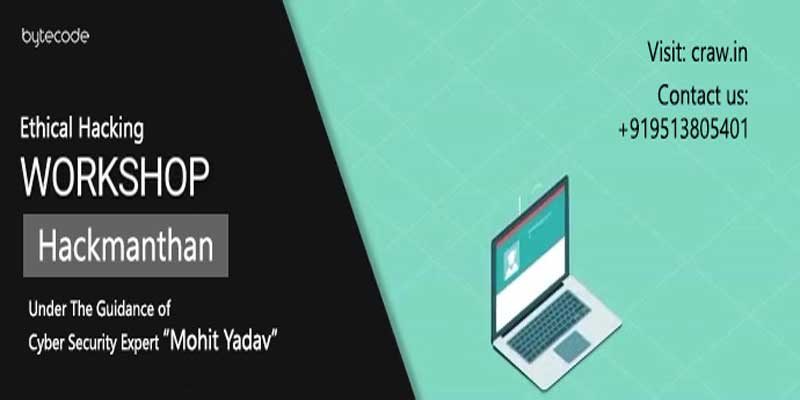 Hackmanthan – Workshop
Cyber Security awareness training to Schools, Colleges, and corporate companies, with a motto, to safeguard citizens of India. Conducted more than 800 Cyber Security awareness sessions all over the globe. Workshop Seminars Conducted By Cyber Security Expert Mohit Yadav.
Our seminars aim to educate the college or the institute about the nitty-gritty of Ethical Hacking and Information Security through well-refined and searched materials. Major emphasis is put upon the core concepts and their applications. Craw Security professionals, faculty members, students, or Corporate who are passionate about Learn Cybersecurity will cover all the topics with great diligence and accuracy. The main focus of such activities is to impart as much knowledge and information about Ethical Hacking and IT security to the enthusiastic students who are keen learners and listeners.
Our Seminars mainly focus on the students eager to be White Hat Hackers. It features a brief introduction to the world of hacking starting with the importance of ethical hackers and their need in today's world scenario, including the basics of networking that will help you have a deep understanding of the working of the internet.
Ethical Hacking Workshop in Delhi Details
18th and 19th December 2021
Online Live Ethical Hacking Workshop on Zoom
8 hours per Day
Online Ethical Hacking Workshop in Delhi fee ₹800+ 18% GST
Get Additional Workshop Benefits
Workshop Participant Certificate
Free Basic Kali Linux Video Course
Training Diploma Voucher
E-Books PDF
Free Ethical Hacking Toolkit
Ethical hacking Workshop in Delhi
About Online Ethical Hacking Workshop in Delhi
A workshop on "Online Ethical Hacking" presented by Craw Cyber Security(Ethical Hacking Workshop in Delhi) under the Guidance of Mohit Yadav. Ethical Hacking is not about illegal things it's all about how to secure your System and Mobile devices from attackers. Ethical Hacking Workshop in Delhi | In this workshop cyberethics, email hacking & security, malware attacks, windows system attacks, online data Investigation, credit card frauds & Cases, playing with google by google hacking, android mobile hacking, etc., topics will be covered. This workshop aims to give you a basic knowledge of Ethical Hacking Training and how to protect your system against attackers.
What will you Learn in Ethical Hacking Workshop in Delhi?
Exposure to Ethical Hacking the latest tools and methods(Ethical Hacking Workshop in Delhi) being used by cybercriminals & terrorists and how ethical Hackers can fight them.
How attacks bypass your second step verification security of email within seconds.
Reset Windows admin password within a second with the help of a guest account without any software.
Some most live shocking cases solved by Craw Cyber Security.
Career guidance and scope of cyber security by experienced faculty.
Hackmanthan Workshops Covered by Craw Security
Craw Cyber Security a Premium Ethical hacking and Cyber Security Company provides Cyber Security Workshops, Ethical hacking Workshops at various schools and universities. Craw security professionals visit various big colleges and provide their expertise in the field of Information Security and Ethical Hacking to Students.
Indian Institute of Technology Bombay ( IIT Bombay )
Indian Institute of Technology Delhi ( IIT Delhi )
Indian Institute of Technology Roorkee ( IIT Roorkee
Indian Institute of Technology Madras ( IIT Madras )
Indian Institute of Technology Kanpur ( IIT Kanpur )
Indian Institute of Technology Kharagpur ( IIT Kharagpur )
Indian Institute of Technology (BHU) Varanasi ( IIT BHU Varanasi )
Indian Institute of Technology Hyderabad ( IIT Hyderabad )
Indian Institute of Technology Patna ( IIT Patna )
Delhi Technological University
Amity University, Noida
National Institute of Technology Hamirpur
University College of Engineering
Punjab Engineering College
College of Engineering Trivandrum
Birla Institute of Technology
PSG College of Technology
National Institute of Technology Warangal
Jadavpur University
Jamia Millia Islamia [JMI]
AMU – Aligarh Muslim University
SSN College of Engineering
MNNIT Allahabad
College of Engineering Pune
Ramaiah Institute of Technology
R.V. College of Engineering
BMS College of Engineering
Netaji Subhas University of Technology
>LPU – Lovely Professional University
PES University
I.K Gujral Punjab Technical University (PTU)
JIIT – Jaypee Institute of Information Technology
Dayananda Sagar College of Engineering
Sri Sai Ram Institute of Technology
Noida Institute of Engineering and Technology
Anna University Chennai
Manipal Institute of Technology
SRM University, Haryana
National Institute of Technology Tiruchirappalli
Banaras Hindu University
Payment Details
Bank to Bank Transfer
Account Name: Craw Cyber Security private limited
Account Number: 1212819060
IFSC Code: KKBK0004627
Account type: current
Bank Name: KOTAK MAHINDRA bank
UPI ID: craw@kotak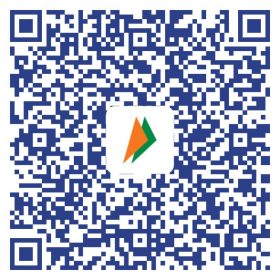 Our Google Reviews
about Ehical hcking workshop in Delhi