Python Programming Training
Bytecode Cyber Security is the best Python Programming Training Institute in the Laxmi Nagar area. Bytecode Cyber Security trained more than 45,000 students all over the world. We have a separate department for placement. We have trainers who have more than 20 years of experience in the related field. Bytecode Cyber Security provides 100% placement after completing the Python Training. We are also providing Python Training basics to advance. Moreover, bytecode Cyber Security provides advanced python training in Delhi. We have different training programs such as python with machine learning, Data Science Python. Python Programming Accreditation Course empowers you to take in Python Training without any preparation.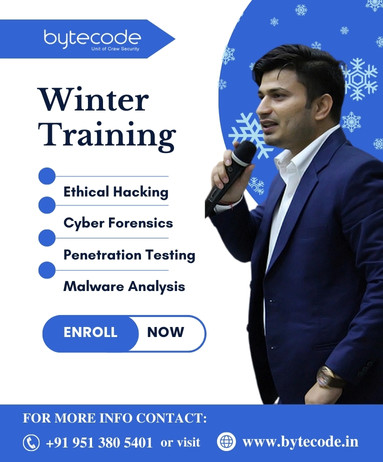 Best Python Programming Training
Bytecode has the best and most certified trainers to train their students that's why it is the best python training institute in Delhi. This Python Course will likewise enable you to ace significant Python Programming ideas for example- Information Activities, Document Tasks. Object-situated programming and different Python Libraries for example- Pandas. Which are fundamental for Data Science. For, basic and advanced python training in Delhi you have to find the best of the industries, and bytecode Cyber Security is known for its best training, certified trainers, and assistance. Bytecode Cyber Security Python Certification Training Course is likewise a passage towards your Data Science career.
Learn From Home with Online Training
Bytecode Cyber Security Provide 24x7 Classes
Students can attend classes from their homes. It takes less time to attend an online class. At the same time, various groups can attend online classes with bytecode Cyber Security From home.
Python Course Module
MODULE 01: Python – An Introduction
MODULE 02: Comparisons of Python with Other Language
MODULE 03: Python Variables & Data Types
MODULE 04: Operators
MODULE 05: Python Conditional Statements
MODULE 06: Python Looping Concept
MODULE 07: Python Control Statements
MODULE 08: Python Data Type Casting
MODULE 09: Python Number
MODULE 10: Python String
MODULE 11: Python List
MODULE 12: Python Tuple
MODULE 13: Python Dictionary
MODULE 14: Python Array
MODULE 15: Python Date & Time
MODULE 16: File Handling (Input / Output)
MODULE 17: Multithreading
MODULE 18: Python Mail Sending Program
MODULE 19: Database Connection
MODULE 20: OOPs Concepts
MODULE 21: Interacting with Networks
MODULE 22: Graphical User Interface
MODULE 23: Python Web Scraping
MODULE 24: Python for Image Processing
MODULE 25: Python Data Science
MODULE 26: Intro with Python Machine Learning
MODULE 27: Intro with Python Artificial Intelligence
MODULE 28: Functions
Course Duration
Course Duration: 40 Hours
Course Level: Intermediate
Include: Training Certificate
Language: English, Hindi
Course Delivery: Classroom Training
Who this Python Programming Course is for :
Beginners who have never programmed before.
Any professional programmer who wants to learn Python Programming.
College-going student-related any field can do this course.
Intermediate programmers can pursue this Python programming course.
Any person who wants to learn programming skills.
What is a New in Python Programming Course?
Intro with Python Artificial Intelligence
Unsupervised learning algorithms, including Clustering and Dimensionality Reduction
How statistical modeling relates to machine learning and how to compare them Conditional Statement
Two main types of machine learning methods: supervised and unsupervised and how they are different.
Python for Image Processing
Our Students Placed in Companies
Our Google Reviews
Our Related Course
Frequently Asked Questions
About The Python Programming Training and CertificationCourse Program